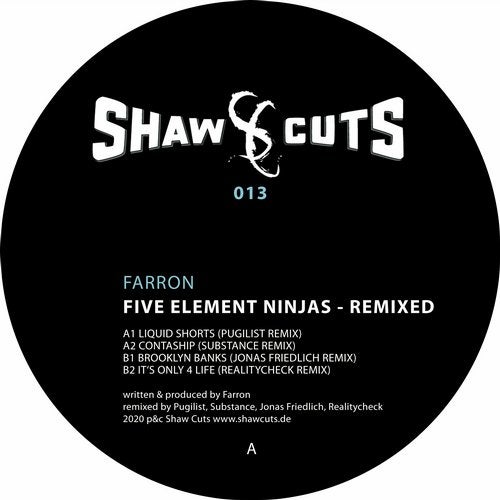 Release Date

2020-09-25

Label

Shaw Cuts

Catalog

SC013
To challenge the leader of the five element ninjas, Shaw Cuts lines up a heavy squad on the next record, armed with versatile remixes of Farron's "Five Element Ninjas" EP: Pugilist, Substance, Jonas Friedlich and Realitycheck.
First off the mark, Pugilist launches into battle dealing forceful blows with his version of "Liquid Shorts". Whirlwind breaks, sharp drum patterns and cavernous chords, lacerate the ninja leader. The heat is on!
Substance rolls in to support, shredding the field with his remix of "Contaship". With blood-spattered pads, a gargantuan rolling groove and harmonic synth elements, he brings the villain to his knees.
Jonas Friedlich blazes in with his remake of "Brooklyn Banks", catching the leader off-guard with dirty Hip-Hop rhythmics, swirling vocals and twist of the original's lead synth. The leader lurches forward...
Realitycheck furiously steps into the clash. His remix version of "It's Only 4 Life" circles the field, its propelling rhythm and floating percussions closing in on the enemy.
The target surrounded, attacking from four sides with full force and allegiance, they execute the ninja leader in one sweep.
The battle leaves them with deep scars, but suffering, like fate and death, is part of life. And through it, the strongest souls emerge.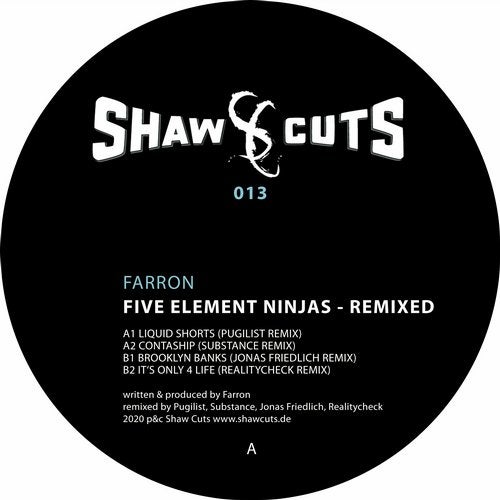 Release
Five Element Ninjas - Remixed
Release Date

2020-09-25

Label

Shaw Cuts

Catalog

SC013