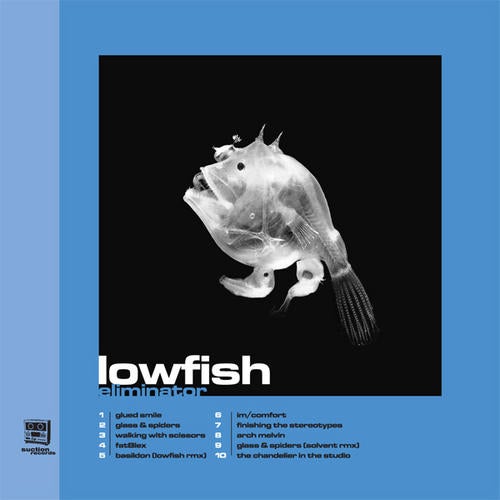 (From the original press release Dec 1999) "Eliminator" is the second full-length release by Suction's own full-time robot, Gregory de Rocher. While previous Lowfish efforts have regularly hinted at electro, "Eliminator"'s 10 tracks positively boom. But there's a twist to these punishing drumcomputer workouts. This is, after all, a Suction record, so it's fairly safe to assume that the djs are going to find this all a little weird. Rarely have pounding 808 beats been cut with such intricate detail and stark, arresting melodies.
"Eliminator" finds Lowfish locked away for months in the studio, with just an 808, a couple of synths, and a pile of rotten fx units, searching for "that perfect melody." he decided to get rid of his sampler, opting instead for an eight-output soundcard for his computer. "Multiple tracks," says Lowfish, "means more 808 parts." you may call Lowfish a bit of a purist.
Lowfish makes no secret of his influences, including '70's modular-murk (Roedelius and Tangerine Dream), '80s electro-pop (OMD, New Order, and The Art of Noise), crunchy techno (early Warp and Rephlex), and freaky new school electro (from Den Hagg and Detroit)... and he manages to combine these diverse strains of electronic music history into a sound that is completely natural, utterly timeless and totally Lowfish.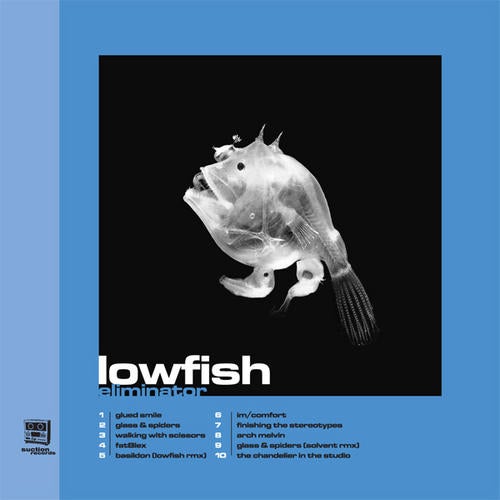 Release
Eliminator