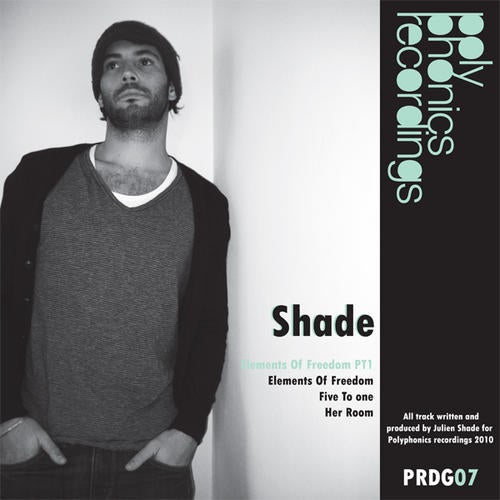 On a Friday night, after listening by chance to a mix by Laurent Garnier on French Radio Nova, he decided to give up his philosophie and literature studies at La Sorbonne to exclusively dedicate himself to électronic music.
Shade has embraced electronic music as a personal frontier. Some artists such as Derrick May, Carl Craig, Larry Heard, Ront Trent, Derrick Carter or Moodyman have led him to find his own musical style. He has permanently settled on a sexy deep house inspired by the sound of Detroit and Chicago.

Owner, A&R and producer of Polyphonics Recordings since 2004 and all-around good guy in the business since 14 years, Shade started djing in the middle of the 90s alongside Dan Ghenacia and supported by Djulz or Jef K at the infamous Kwality afterparties at the Batofar in Paris...
Currently residing in Barcelona he is djing all over the world to good success: From Snowtronix 2000 to the Jazz Festival of Nancy, from the Futuria party at Zenith to the Rex Club in Paris, Shade has joined in all the biggest French events. He has also been given residencies in La Mezzanine de lAlcazar , in the Kwality Afters of Batofar together with Dan Ghenacia, Chloé, Ralph Lawson and Ivan Smagghe, as well as in parties such as Perfect in la Fabrique and Superstars in the Queen by the side of Luke Solomon or Kenny Hawkes. At 20 years old (2001), he signed for Pschent Label (Hotels Costes, Hugo Boss...) and mixed the CD 2 of the first compilation « La Mezzanine de lAlcazar » (75.000 copies sold). At the time, he also started to discover the European & world stages and ended up behind the tables of the Lounge Club in Belgium where he has played and invited many international guests (Faze Action, Pacman, Dj Deep...), toured in the Czech Republic, then Tokyo (La Fabrique, Yellow, Loungeo), London (The End, Cargo) or in Jet Set club in Moscow & St Petersburg.
His productions and mixes give him the oportunity to play as guest in worlds famous clubs like the Space Ibiza by the side of Carl Cox for the 2003 opening party ! In 2002, he became the resident Dj of the parties « Its About » at the well known Rex Club Paris once a month with Charles Schillings.
Result: He released in 2002 at the the same time a new mixed double CD Overground House 05 with Charles Schillings reflecting the party at Rex club (20.000 copies sold).
After one month spent on a tour in Japan, he launched his first 12 with Dj :Terry: (2020 Vision/Highgrade/Freak N Chic) and became resident to the infamous Space world tour witch gave him more opportunities to play around the world. He performed then at the Closing party of Midem 2002/2003/2004 in Cannes with Frankie Knuckles, Satoshi Tomiie, at the Divino Ibiza, at the official party of the French Gay Pride 2002 with Little Louie Vega (MAW) and also regulary plays in special events for famous brands as Gucci, Bulgari or Hugo Boss in Asia. French fashion magazine Max has chosen him to appear among « the 50 most stylish guys of Paris ». Moreover, Levis has asked him to represent the brand in an adventiste campaign seen in all the Levis stores.
Polyphonics recordings, his own imprint welcome artists like John Tejada, Schmoov, Gwen Maze, Matt Flores, Elmar Schubert, Jimpster, Motorcitysoul, Vernon & Dacosta, Sasse, Tigerskin, Till Von Sein, C-Rock, Chris Carrier, Jef K, Pedro Cali, Spirit Catcher, Shawn Ward, An2, Vernon, Julian Sanza and many more including hiself. He is currently busy in the studio producing or remixing tracks (Motorcitysoul, Elmar Schubert, Matt Flores,Jef K, Chez Damier or Spirit Catcher). He signed 3 new tracks on Pschent record on the very begining of 2006 and one is featured the well known Alton Miller from Detroit. He aslo teamed up with Gwen Maze & Steve Ferrand for 2 new deep house projects and a mix CD including all the polyphonics catalogue was released for Corona in the Middle-East at beginning of 2007. Since 2008, he has a residency in his own party every month at the Batofar in Paris with his partner Jef K (Crack & Speed / Silvernetwork) .He has been given residencies at Becool club in Barcelona (since 2008) where he invited guests like Efdemin, Chymera, Ralph Lawson.., at Boulevard (ex Fellini in 2009), Hotel Omm and is also resident at the worldwide infamous TAPE party alongside his partner Will Deluxe where he shared decks with his friends and guests: Deetron, Motorcitysoul, Chymera, Aqua Bassino, David K and many more. In 2009 the Polyphonics Collection mix CD was released on Polyphonics. His remix for the huge summer hit track In My System from The Gathering (Chez Damier, Jef K,& Chris Carrier) will be released on Silvernetwork this January 2011..
Shade is now regarded as one of the talents of the house generation and is currently on tour rocking the dancefloor worldwide. Watch out!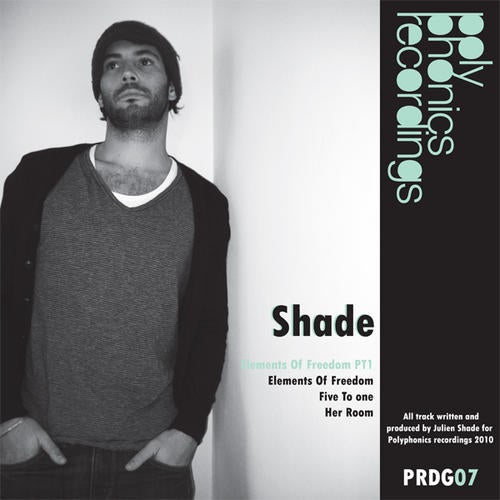 Release
Elements Of Freedom Part 1