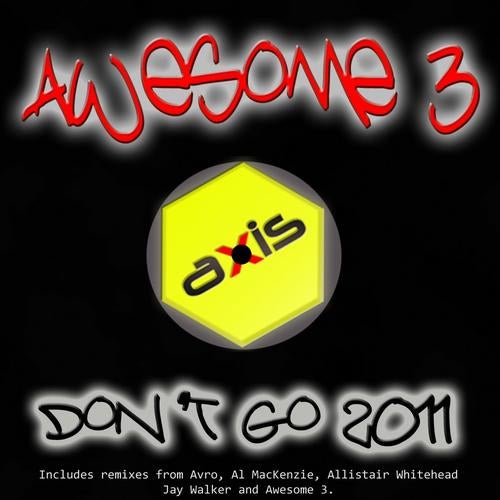 Release Date

2011-09-19

Label

Axis Trax

Catalog

AXT1191
The Awesome 3 are back following the success of 'Freedom Of Life 2011' earlier this year! They are perhaps best known for their anthem 'Don't Go' and now it's back with a whole new set of mixes!

They come from Avro, Al MacKenzie, Allistair Whitehead, Jay Walker and Awesome 3 themselves and cover a variety of house angles.

Enjoy!

The Axis Trax Team x


AWESOME 3 - A SHORT BIOG

Steve Gorton (The Rune Stone Cowboy) Alan Burke & Pete Ward are back together once again as The Awesome 3!

They had national UK chart success with hits such as 'Don't Go', 'Hard Up', 'Take Me Away', 'Headstrong', 'Freedom of Life' and 'Possessed' and were signed to some of the great dance labels such as AM:PM and Entity. A unique sound and very much "sampled" by many artists. 'Don't Go' is still seen as a seminal rave anthem and has been remixed by some of the UK's top DJs.

Since their split in the late 90's Steve worked on his career in the drum & base arena. Alan became The Brooklyn Foundation/The Time Brothers & Pete toured the globe DJing for some of biggest clubs on Earth. Steve, Alan and Pete have worked hard to maintain their own sound and have brought their talents to the fore with a new sound. Today's sound.

The music scene needs great music. Awesome 3 broke new ground before and plan to do so again. Take a listen!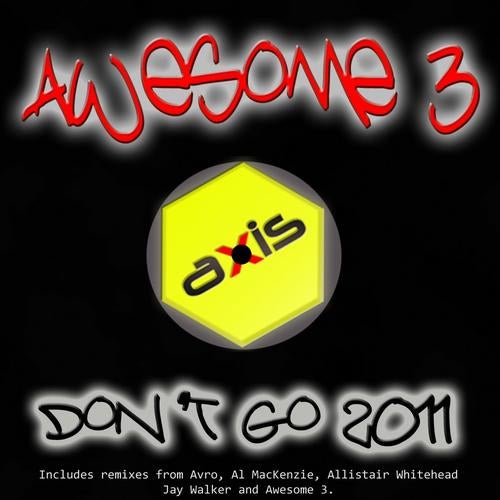 Release
Don't Go 2011
Release Date

2011-09-19

Label

Axis Trax

Catalog

AXT1191