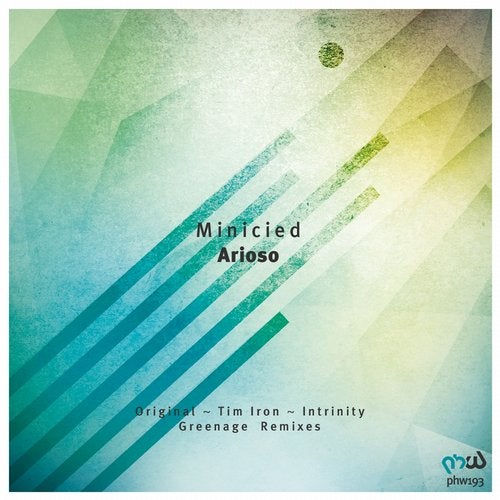 Release Date

2015-09-28

Catalog

PHW193
A new week means a new release on PHW, and this time we turned the attention to the Canadian producer Minicied who returns to the label with another uplifting and melodic progressive production, this one baptized as "Arioso". Being a producer that works hard to build up melodic arrangements with addictive hooks and tension, he is sure to be a producer that you will hear a lot more about, not only through us as he is building up his reputation on the scene, it is great when we are able to help out. This is one hell of a sun-drenched production that we said yes to when we had the first demo in.

On the remixes, taking their own twists on the original ideas we see core artist of PHW, Tim Iron joining back as we see him do a lot in the past as well, and it is a pleasure each and every time. Here you will get your hands on another melodic roller coaster that definitely blends edge, drive and sunny vibes into one solid production, all with the "Tim Iron vibe", it's packed character.

Long time buddy from the UK, Daniel Cattlin, know to us all through his Intrinity giuse. Daniel who's been with us since our early days a totally different tweak on the release here, with his energetic and rolling rework. This is another stormer from this huge talent, and we do feel this is one to not miss out on!

To round things off, and build yet another tweak for the release, we have the India based producer Greenage returning to us for another release, and we are of course truly happy to see him join back with us with his great influences. He's always been a creative influence on the label, and he delivers one after another with forward thinking vibes and solutions. This time he's built a lovely retro feel on the original melodies, where the 80's vibe shine through, still with the 2015 feels being right around the corner. It's as fresh as ever from him, and we wouldn't change it for the world, awesome music from a rare talent!