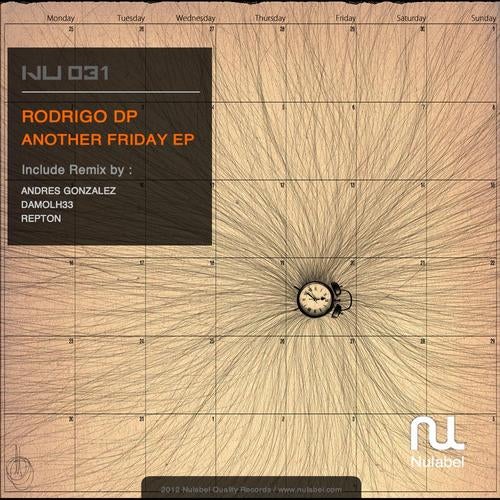 Release Date

2012-07-18

Label

NuLabel

Catalog

NU031
Rodrigo DP unleashes with his Another Friday EP a perfect storm formed by ideal rhythms. Nulabels 31st reference arrives from the city of Cordoba in Argentina, where is based this young DJ and producer, responsible for soaking Nulabel up with his powerful Minimal Techno.

Another Friday EP has 2 original tracks accompanied by the remixes made by the Slovakian Damolh 33, London based producer Repton and the also Argentinian Andres Gonzalez. Rodrigo DP opens furiously this new reference with Anoter Way, in which he produces a powerful fusion between Minimal and Techno that has a futuristic scent, a perfectly built background accompanied by misterious vocals and several combinations of very danceable sounds.

For the first remix, Damolh 33 comes back to NuLabel in order to reconstruct Another Way, changing the vocals and adapting the track to a more minimalistic style. The Slovakian keeps being loyal to his musical ways and at the same time approaches his sound to an experimental barrier without loosing the original tracks vertiginous ryhtm.

Repton debuts in our label with a blast that bursts Another Way, initiating his remix with a lot of power that moves closer to Techno. Raw music overloaded due to the increasing speed of the beats.
Andres Gonzalez signs the last remix, dissociating himself from the original track. He repeats the background surrounding us with a hurricane made by rhythm and groove fused with Minimal notes that twist in the air in order to give more depth to the track.

Lastly, in order to end this Another Friday EP, Rodrigo DP presents Friday, another masterpiece of Minimal Techno that hooks you and makes you dance with its electrified and exceptional rythm. This track starts solemnly and increases in darknes as Rodrigo plays with the modulations of the sounds.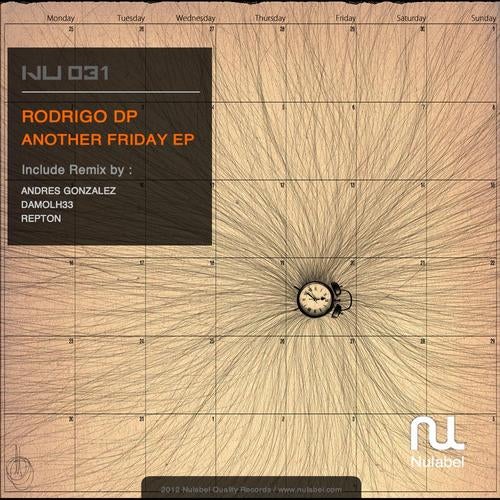 Release
Another Friday
Release Date

2012-07-18

Label

NuLabel

Catalog

NU031