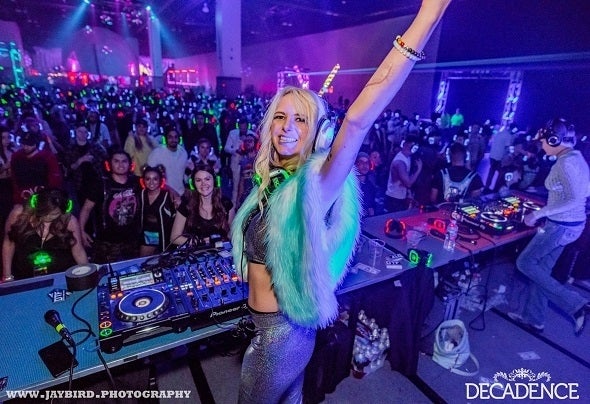 Connecting her listeners to the dance floor one eminent beat at a time, Los Angeles native Flower Conway is making her reign through the house music world. Nowadays she spends her time mixing and producing house music as D3lphie. Her unparalleled sound illustrates an assemblage of dark and heavy bass lines with an undertone of smooth dance elements. While her nine-year career has solidied her reputation as an underground artist on the local level, D3lphie brings originality to the ow of her sets. Sticking to her roots, she seamlessly blends a light, tribal tech house sound with dark and deep techno feel that one might describe as completely melliuous. She has become locally successful in numerous markets across the western half of the U.S. so far. Her experience has landed her at some of the top nightclubs in the nation such as Avalon Hollywood and Union Nightclub in L.A.; Sky Las Vegas; Beta Nightclub, The Oriental Theater, The Church Nightclub, the Broncos Stadium, the Colorado Convention Center and the McNichols Civic Center in Denver; and The Mansion Nightclub in Colorado Springs. Her smooth tribal undertones make her the perfect t for festivals, too. Her sound has afforded her billings at some of the hottest massives in Colorado, among them Supernatural Festival, Global Dance Festival, Decadence, and many more. Moreover, she has garnered recognition by an array of artists and has played direct support for acts such as Green Velvet, Donald Glaude, MARLO, Heavy Grinder, SYD GRIS, Botnek, LA RIOTS, Indecent Noise, EC TWINS, Andrew Rayel, Boombox cartel, Darren Styles, DJ Icey, Stanton Warriors, Manufactured Superstars, ETC! ETC!, DJ FIXX, Sam F, Trajikk. 
Adam Stark, Ecotek, Lea Luna, NativeOrigin303, DJ mLe and many others.
Additionally, D3lphie has performed music with countless production companies over the years and all across America.