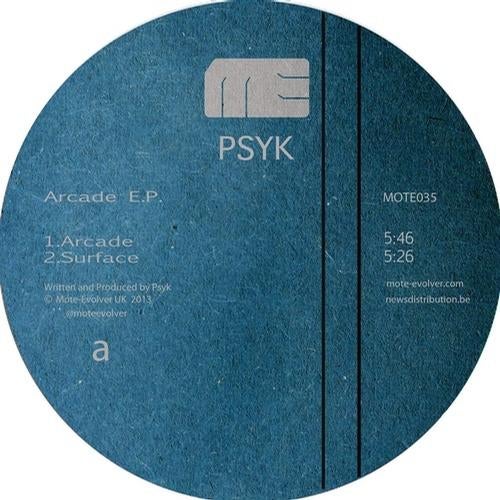 Mote-Evolver welcomes back Psyk (aka Manuel Anos) after his strong label debut release, Distane. For his second Mote-Evolver release, Psyk delivers yet another standout effort with four tool-oriented tracks of clean, tight, yet powerful minimalistic approach.

The title track "Arcade" that opens the EP contrasts high-energy thumping drumbeat with a hypnotic layer of syncopated rhythm. Its movement and development is subtle and organic, yet at the same time skillfully elevating the energy with joining clapping beat and hi-hats. Following "Surface" will stay in your mind with its obsessive singularity of monotone balanced with the groove of muted heavy beat. It's a moody number that grabs the listeners' attention with certain tenacity that stays throughout the track.

One might find B-side of Arcade EP slightly funkier; "Intern" is meshed with lighter elements like beeping sounds and clapping, providing the refreshing vibe to the EP. However the carefully crafted dynamic and the simple, pure, and fun personality of "Intern" assures that it's no less powerful tool for the dancefloor. The last track "Somewhere" is perhaps the grooviest track of Arcade EP, thanks to the deep dark dubby bass that's setting the tone properly from the very beginning. Psyk combines and tames energy into a relaxed atmosphere for "Somewhere", giving a breathing room for emotion that draws you deeply into the euphoric moment. With Arcade EP, Psyk is clearly not shying away from showcasing his skills of honing the diverse mood and texture of techno that are highly functional.

early support from:

ADAM BEYER / TRUESOUL, MAD EYE, DRUMCODE: BIG!
ROLANDO / OSTGUT TON: Psyk comes through again! All 4 tracks will get plenty of plays from me!!!
BRENDON MOELLER / ECHOLOGIST (STEADFAST): simple and effective techno weapons
RYAN ELLIOTT / SPECTRAL SOUND: Nice EP!
PAR GRINDVIK: thanks! arcade and surface for me
SCANMODE / DJ MAG SPAIN: amazing works
STRAY LANDINGS: psyk is a firm favourite over here at Stray Landings. Already have a contributor primed for a review! thanks a lot, really great ep!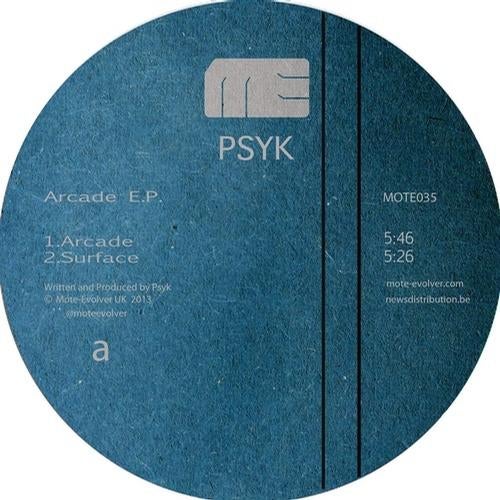 Release
Arcade EP