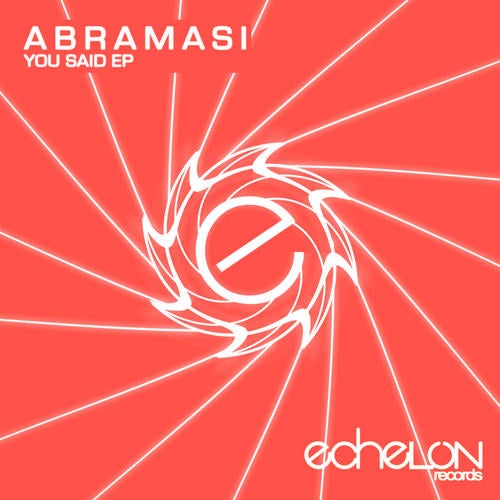 Release Date

2010-06-22

Label

Echelon

Catalog

ER053
Abramasi continues to deliver quality tracks with drive and elegance. More known of harder, techier club sound in his previous collaboration releases (see e.g. "New World" featured on Entrance compilation by Rank1 & Jochen Miller), You Said EP is his first solo release on Echelon. Consisting of the sweet vocal track You Said and a techier club banger Heavy Industry, this EP gives an deeper insight into Abramasi's personal sound. The two original tracks are quite opposite in character, showing the versatility of the composer. Abramasi's sound has the kind of energetic drive and thematical originality that makes him an interesting producer to follow in the future.

---

1. You Said (Original Mix)
The original mix of You Said is a mellow progressive tune in which the temporal crispyness of melodic timbre characteristic to Abramasi's sound combines with pearly vocals and rolling melodic riffs. A catchy bass groove drives the track forward in a pleasant summery vibe.

2. Heavy Industry (Original Mix)
Perhaps intendedly, the B-side track of the EP Heavy Industry is a much more sombre track than its counterpart. A haunting synth motif is the revolving central theme of the track, supported by a solid club bass and rhythmical riffs. Development involves bass line variation and additional melody lines, and the track lifts off after the breakdown with full-blown synths.

3. You Said (Dub Mix)
Essentially the same in structure and melodies, the dub mix is a nice alternative for the original vocal mix.

4. You Said (Synthika Remix)
The Synthika remix makes full use of the vocals, laying them on a deeply pumping bassline-percussion foundation. Rich melodics and harmonies accompany the arrangement while the track develops through different movements. Laced with counterpointing themes, the remix leaves a lot for the listeners to discover.

5. You Said (Synthika's Instrumental Remix)
The alternative mix here is based solely on the original's instrumental parts.