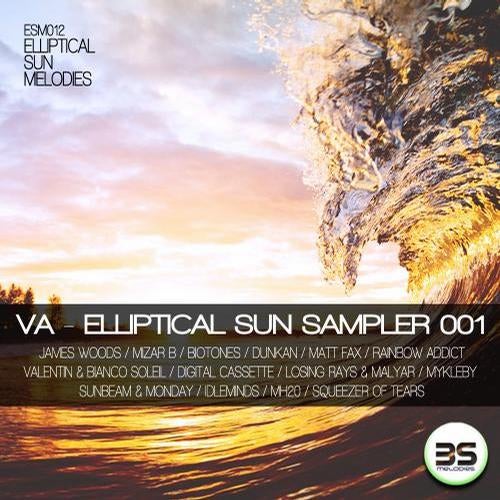 Elliptical Sun Melodies is proud to present you our very first sampler, one that we are proud to release in celebration of 3 months of steady releases and a tribute to our favorite season of the year summer!

We were more than fortunate to have the extreme pleasure of working with the incredible artists featured on this release and are confident that everyone will find something special for them on it.

Kicking off the release we have James Woods with his gorgeous bass laden track titled Time Passes which is a beautiful deepmelodic journey that has some incredible melodies, rich atmosphere and deep driving bass that truly delivers a serene amount of energy and flow.

Then we have the magnificent workof Mizar B who brings a sweet quirky progressive jam titled Second Earth which is filled with some solid energy levels, chunky kicks, dreamy chords and an all-around harmonious melodic texture.

Next up we have Biotones who always deliver some incredible melodici nfusions and do so heavily with their track titled Mindreading which brings some nice uplifting melodic vibes filled with punching kick drums, galloping percussion, a solid pulsating bass line thats mixed with some sexy chords and atmospheric pads.

Dunkan returns to the label with a gorgeous melodic bombshell titled Amsterdam, a track that is smothered in gorgeous chords, dreamy pads, pumping kick drums and deep pumping bass that all culminates into a strong emotionally driven production. Making his debut to the label, Matt Fax brings us a driving melodic stormer titled Cycle which is stuffed with driving kicks, pumping bass, haunting atmosphere and a full on peak time progressive feel that really delivers the best of both worlds in the tough yet soft progressive soundscapes.

Another new debut artist to the label is Rainbow Addict who brings us Hide Me From The City Lights a track that truly delivers some amazing layers of chunky kicks, driving bass, quirky house chords, crisp percussion, beautiful atmosphere and an all-around powerful progressive performance. Next up we have the combined forces of progressive stars Valentin & Bianco Soleil who bring us Farplane which is a magnificent combination of some signature sounds that these two masterminds bring to the table and truly blew our minds to say the least. Next up we have label resident Digital Cassette who delivers a driving, melodic, power house styled track titled Into The Night which is loaded with chunky kicks, throbbing bass, whining synth leads and an all-around dreamy melodic texture that mixes beautifully with the power this track holds.

Bringing their talented powers together for the first time Losing Rays & MalYar bring us a stunning production titled Simple Fantasy which delivers a mind blowing combination of each of their sounds, bringing some driving haunting bass and kicks mixed with some impressive melodic textures that works incredibly well together. Making his debut to the label with a new pumped up sound Mykleby brings us the track titled Sol which is a nice clubby styled progressive jam that mixes the very best of club style drive and progressive style melodies definitely one that will rock some dance floors. Combining forces for the first time as well as making their debut to the label, Sunbeam & Monday bring us a gorgeous summer infused melodic jam that packs some soft sexy textures, melodic atmosphere, warm fluffy bass and a full on summer progressive feel. Making a solid debut to the label we have Idleminds with their track titled Things You Are which delivers some pumping kicks, steady deep bass lines, a beautiful piano lead, gorgeous melodic chords and anover-all uplifting emotional drive that is impressive to say the least.

Bringing us a solidsummer infused jam we have MH20 with his track titled Cojona Point which is one oft he finest pieces of work we have seen from this rising artist. Last but certainly not least is label debut artist Squeezer Of Tears who brings us the beautiful track titled Nightingale which truly finishes this sampler off in the most impressive way. We truly hope you all enjoy this album and be sure to keep your eyes and ears on these artists for more releases of their own due out this year on ESM.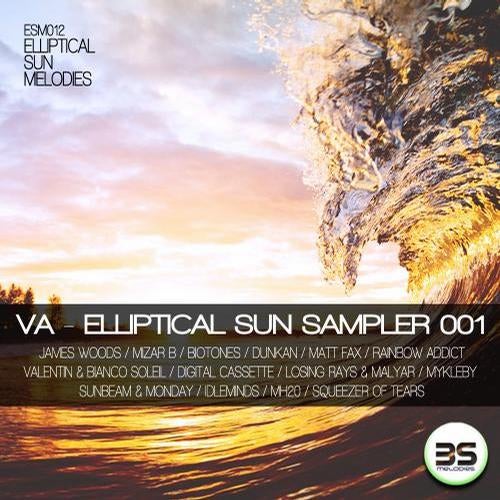 Release
VA-Elliptical Sun Sampler 001