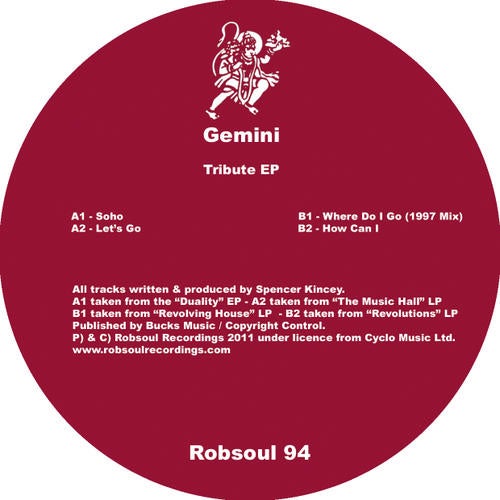 Phil Weeks on Robsoul Recordings latest release: This is a Real Gift for the new generation
who dont know this Chicago master. Gemini is a genius!
Geminis Tribute EP is quite simple label boss Phil Weeks has handpicked four of his favourite
tracks by the legendary Spencer Kincy, originally released on the infamous Cyclo label in the late
1990s, and gives them a fresh lease of life on Robsoul. Its serious house music for the heads a
pure Chicago flavour in the vein of Cajmere/Green Velvet.
5 Magazines Terry Matthew provides the perfect introduction to Gemini:
Spencer Kincy was giant in Chicago's House Music revival - part of the second wave of younger DJs
and producers that took the music of the early 1980s, rubbed it up and dropped it in places like 500
West Cermak, Medusa's and the Vault. A lot of people who are now superstars of the scene - Mark
Farina, Sneak, Derrick Carter, and dozens of others - were a part of that movement, too. Spencer
released a number of tracks on Relief, Planet E, Cajual, Peace Frog - labels representing the classics of
that era - and he usually recorded under the name Gemini.
While no longer involved in the music scene, Spencer Kincys recordings are still much loved and sought
after - Phil Weeks and Robsoul pay their tribute here.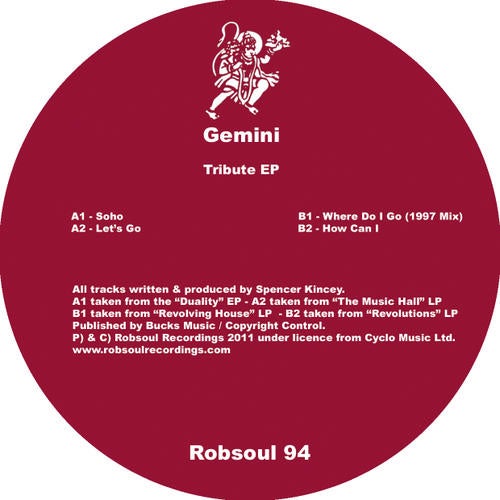 Release
Tribute EP