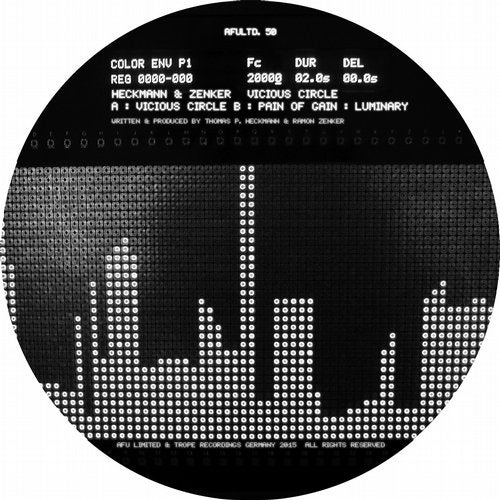 Release Date

2015-01-22

Label

AFU Limited

Catalog

AFULTD50
What happens when two legends lock themselves in the Trope Studio for two days and have fun You hold the result in your hands or have it on your speakers right now.
We think we don't have to introduce the label boss Thomas P. Heckmann and his mate Ramon Zenker (Hardfloor and countless more) to you obviously, so we let the music speak for itself this time !
And AFU Limited just has it's 50. release and 10 years since the launch as AFU Limited !!!

speedy j 'Thanks, will test.'
Niereich 'pain of Gain for me, will try them out. thx'
Thomas Schumacher 'Ach wie schön Euch beiden alten Säcke...ähem
Urgesteine des Techno vereint zu hören :-) Luminary ist
genau mein Ding, sauber!!!'
D.Diggler 'big !!! thx'
Andrea Frisina 'Cool Ep, picking "Vicious Circle", thanks !'
DID records 'Pain of gain and Luminary are good techno tracks,
thanks for the music, will play and support!'
Markus Jogun 'Love Luminary. #claveforlife'
Frankyeffe 'Full support!!!'
Dr Motte 'We love it! Full Support!
Raphael Dincsoy 'strong release and a very nice combo of two "old" heroes!'
Henri Kohn '2 legends indeed! also dig pain of gain.thx'
Kerstin Eden 'Massive!!'
Alalunadevalencia radioshow 'Amazing'
Misoo 'psychedelic...nice ep'
Gel Abril 'nice will try!'
Danny Tenaglia 'Thanks Support!'
Superstrobe 'Great release, thx!'
Olivier Weiter 'Banger! Pain of gain for me thanks! Luminary also really
well done!'
Mijk van Dijk 'Vicious Circle is truly phat!'
Nick Hindsight 'Slammin! Thanks will suppert !
Erwin Kelemen 'rocking beats,playing loud'
Macromism 'pain of gain is awesome ! really strong track for me ! THX'
Antoine Electric Rescue 'nice to see the men rocking it :)"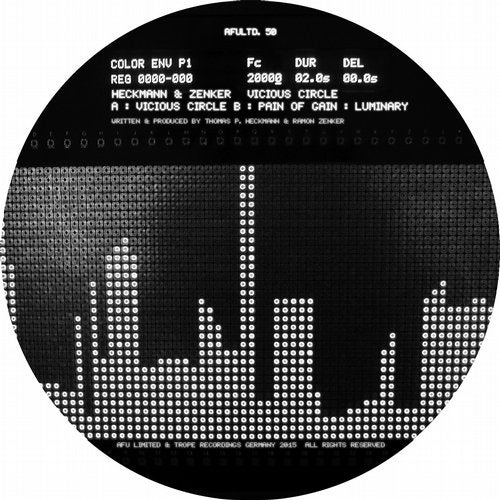 Release
Thoms P. Heckmann & Ramon Zenker
Release Date

2015-01-22

Label

AFU Limited

Catalog

AFULTD50