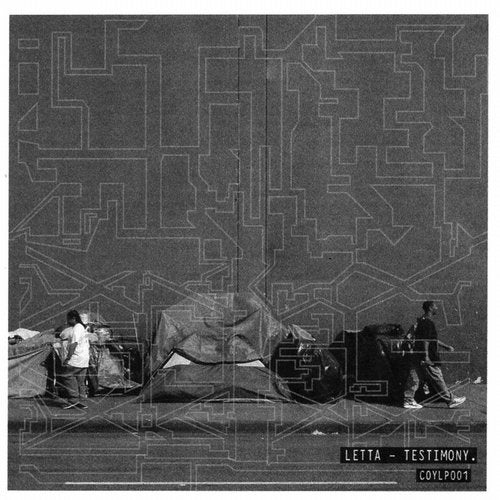 Coyote Records are proud to present their debut album release, 'Testimony' - produced by the im-mensely talented, little known Letta.

Letta's 'Testimony' is an intensely personal and introspective musical manifestation of his years spent battling addiction, violence and homelessness. Now clean and settled in downtown Los Ange-les' Skid Row - infamous for its dense homeless population - Letta is faced with daily cues and reminders of his troubled past, and has distilled those emotions into a remarkable debut release. His unique experiences and circumstances are conveyed through a kaleidoscope of synth-doused soundscapes; palpably melancholic but not without occasional glimpse of light. Testimony soars with flourishes of eski colour, soulful vocal manipulations and thick, melodic basslines in a style that touches on grime and hiphop, yet is truly characterised by its emotive effect; compositions that transfix with their depth and imagination.
Over eight tracks, Letta offers an encapsulating glimpse into his world; an album built to be listened from edge to edge. As a bonus, Letta also exchanges remixes with Last Japan, remixing 'Harca' and Last Japan returning fire with his rework of 'The Recluse'.

Words From Letta:
"I moved out when I was 13 and I've pretty much been on my own since then. I spent most of my youth in Arizona, which is a hub for all the drugs coming up from Mexico. I was a junkie for years and sold a lot of drugs - it was a super violent, hectic time. The fact that I made it out of that alive and the fact that I've stayed clear of drugs or even thought about them in the last five years is a miracle. Unfortunately, I can't even count five of my friends that made it out like I did, but I always clung to my music. No matter what was going on in my life and what I was involved with, I was al-ways making beats - it's the only reason I'm not dead already.

After a while, I finally made an effort to get my shit together and was on methadone for a few years before deciding to go to the desert - five miles north of Mexico - and made myself stay there until I was better. It was the most agonising time ever. I tried to just stay out of trouble and focus on mu-sic, which is a lot easier said than done. Luckily, I've always had homies putting in work and after another run getting involved with the wrong shit in Arizona, I finally just said 'fuck it, I'm too old for this', packed up my stuff and bounced to LA.

I crashed on couches until I got my act together and ended up living in a warehouse in the middle of Skid Row - just a huge, open, raw warehouse space. So that's what I do now - I smoke a lot of trees, make beats all day and hang out with my cat. I think being on Skid Row and seeing so many people that remind me of my past has really helped me reflect and take my music to where it was supposed to be. I feel like this record is just the first chapter in me trying to channel years of sad-ness and horrible memories. I feel like every track relates to a specific moment in time, with a spe-cific person, in a specific place. This is just me channelling stuff - it's not beat making, it's not grime or hip hop or whatever, it's just me."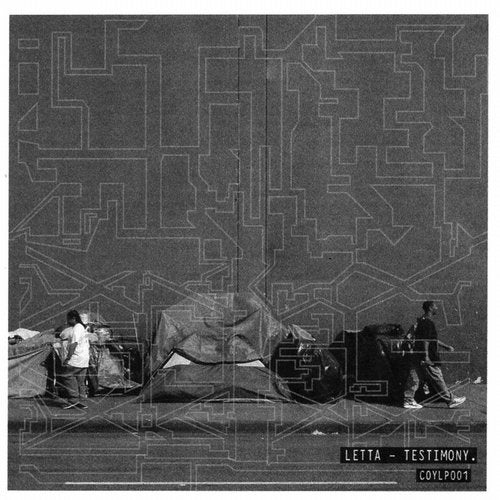 Release
Testimony