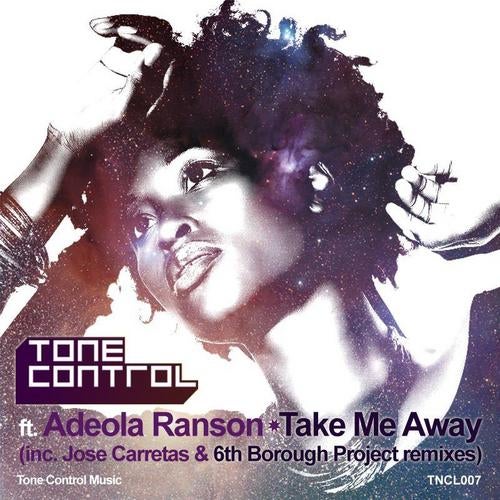 UK production duo Tone Control, aka Simon Finnegan and Marcus Harris, return for the 7th release on Tone Control Music, with a slice of deep mid-tempo astral soul, titled 'Take Me Away'. Rising star and vocalist, Adeola Ranson (featured on the smash 'A Little More Love' with Sean McCabe on Soul Heaven) delivers a beautifully smooth vocal, over a lush bed of warm pads and electronic bass, and dubbed out trumpets courtesy of Nathan Thomas (from Love Over Money). The package is made complete by some stunning remixes, including Vocal, Dub and Instrumental versions from man of moment; Jose Carretas (restless soul). Enlisting Kaidi Tatham on Keys, Jose brings 'Take Me Away' to the house floors with a warm and emotive production. The Revenge and Craig Smith team up in their 6th Borough Project guise, working elements from the original to create a moody working groove in their signature style.

Tone Control have received support from heavy weight house DJ's such as Kerri Chandler, Miguel Migs, Charles Webster, Halo and Franck Roger while also finding favour with leftfield tastemakers such as Theo Parrish, Simbad, Bill Brewster, Domu and many more. Since their debut single on Grab Recordings and the inception of the Tone Control Music label in 2006, Tone Control came to wide critical acclaim in 2008 with their much-supported "Illusion" single. Now six releases deep, the Tone Control Music roster has expanded, releasing singles by Love Over Money and Poussez vs. Demarkus Lewis, enlisting Atjazz and restless soul (aka Phil Asher and Mark de Clive-Lowe) on remix duties. These singles cemented Tone Control Music's place in soulful dance music with accolades and support from Tony Humphries, Danny Krivit, Frankie Knuckles and more. 2010 looks to be an exciting year for Tone Control with a new single with gospel vocalist Adeola Ranson, complete with remixes from Jose Carettas and 6th Borough Project, a forthcoming follow up to "Illusion" with James B. Coleman and growing schedule of releases for the year… Keep listening for more unique underground soulful sounds!

Adeola Ranson is proving herself to be a rising star of the Soul and Dance scene in the UK. Debuting her Soulful House recording on Soul Heaven with Sean McCabe, and performing vocal duties for John Oudo's Big Spin imprint, Adeola has forthcoming releases with Tone Control, Matthew Bandy and Aphrodisiax on TRIBE Recordings, and with Fuminori Kagajo (and Simon!) on King St. to name just a few. A consummate live performer, Adeola is also an active member of CK Gospel Choir, while developing as a solo artist.

Since the release of 'Taking A Little Piece Of Me' on Tribe Recordings in April 2009, Jose Carretas' star as a producer and dj has most certainly risen, becoming one of the most sort after producer/remixers in the UK. As well as remixing for some of the top artists around including Tamara Wellons, he has found time to start up his own label Son Liva, releasing four fantastic singles to date including 'Memories' and 'Never Let You Down' that have been supported by djs all over the world.

Edinburgh's Craig Smith has been working with production partner Graeme Clark (The Revenge) in their popular "6th Borough Project" and "Craig Smith & The Revenge" guises, with recent releases/remixes on Five20east, Soul Heaven, Jimpster's new label Delusions Of Granduer, Jisco, Less Productions and Instruments of Rapture. Through a consistent out put the pair have been gaining mad props/ radio/club play from such heavy hitters as Kenny Dope, Giles Peterson, Simbad, Karizma, Jimpster, Terry Hunter, Danny Krivit, Chris Duckenfield, Joe Clausell, Quentin Harris, Phil Asher, Todd Terje, Mad Matts and a host of others!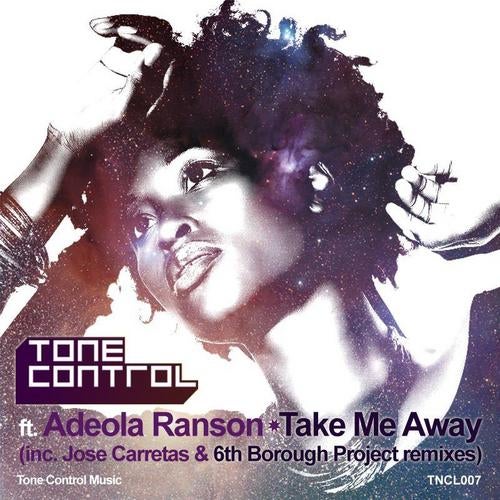 Release
Take Me Away (Includes Jose Carretas & 6th Borough Project Mixes)