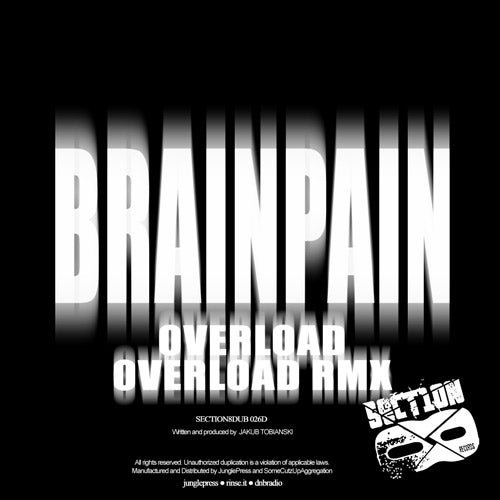 Release Date

2011-04-04

Label

Section 8

Catalog

SECTION8027D
Brainpain's pounding bass is no joke. We tested these out on a proper system and drinks were rattling off the table! A heavy drumstep remix accompanies the original.

BIO FOR: BRAINPAIN
Brainpain
DnB, Dubstep, Experimantal, Chill out, Breakcore producer, DJ from Poland.

www.myspace.com/brainpain.dubsaw
http://soundcloud.com/brainpain
http://www.youtube.com/user/Brainpain0music
http://www.megatotal.pl/artists/artist.php?id=4214

Brainpain (Wroclaw, Poland) Dj, DNB, Dubstep, Experimental and Chill Out producer.
He's been busy making music for around 10 years. Since 2008 his tracks have been released on labels like: Section 8, Mindsaw, Dubsaw, Veri Lo, Sustained, Black Hoe, Dark Box, Foulplay, Mindocracy, Sociopath, Monstersound.
He is a merciless sound oppressor using heavy bass artillery, NO PRISONERS. Once You hear his always fresh Dubstep or DNB selection You'll never stay the same…

RELEASES:

SECTION 8

BRAINPAIN & SICKNOTE - MIRACULUM (DnB & Dubstep versions) [SECTION8DUB006D]


Sustained Recs:

KILLA ARMY EP [SSTDMP3010]
1. Brainpain - Killa Army
2. Brainpain & Weirdo & Satan - We Destroy
3. Brainpain - Someone Who Thinks Differently
4. Brainpain & STHS - Join Me
Black Hoe Recs:
- Brainpain - Killabeet
- Brainpain - Rapture


Mindsaw Recs

MSAWD069
Brainpain - Zero Tolerance EP
A. Fullmoon Massacre
B. I Saw Your Mind
C. Mutation

MSAWD076
Brainpain - Dopminator EP
A. Dominator
B. Black Void ft. Miss Lil L
C. In Your Eyes ft. Sleepwalker
D. We Destroy ft. Satan

MSAW079
Violent Tendencies - Pierce The Heart

MSAW007 12"
A. Broken Note - Venom
AA. Zardonic ft. Brainpain - Fucking Up The Program



Foulplay Recordings

- Brainpain & AirJ - Bad Place


Sociopath Recordings

BRAINPAIN - MADNESS AND OBSESSION EP (Free download)
- Just One Time
- Mutagen X24d
- Madness And Obsession
- Track Her Down


Monstersound Recordings

Brainpain - Morbid Society EP
-I'm The One
-Close Combat
-Morbid Society

Mindocracy Recordings
- You Don't Know

Dubsaw Recs (VA compilation):
- That Noise

DUB GOES WILD – DGW01 – 2010 (35 Tracks Compilation)
Track: Brainpain - Bombkicks Snareblades

and many more soon...