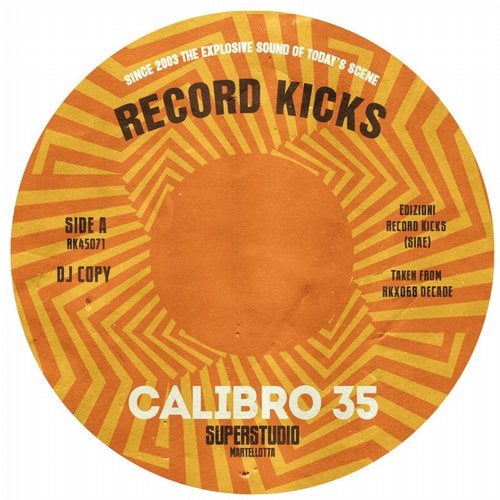 Record Kicks proudly presents "SuperStudio" the new single by legendary Italian cinematic funk combo Calibro 35 sampled by Dr.Dre and Jay-Z, taken from their forthcoming new studio album DECADE
"SuperStudio" - available on a super limited edition 45 vinyl and digital download together with bonus track "Gomma" - is Calibro 35's first single and anticipates their new album DECADE that hits the streets next 9 February. Quoting the band "SuperStudio is the main theme for a movie that doesn't exist, starring Clint Eastwood and Pam Grier saving earth from the invasion of deadly robots from another planet" and it's pure Dynamite. On the flip you'll find "Gomma", the bonus track out of the album which is an irresistible funk groovy shaker.
Recorded at the legendary Officine Meccaniche studios in Milan by CALIBRO's usual suspect and Grammy Award winner Tommaso Colliva, "DECADE" marks 10 years of Calibro 35's releases and it's the very first album recorded by Calibro with an orchestral-inspired enlarged line-up. Active since 2008 CALIBRO 35 enjoys a worldwide reputation as one of the coolest independent band around. During their ten years career, they have been sampled by Dr. Dre on his Compton album and Jay-Z, they shared stages worldwide with the likes of Roy Ayers, Muse, Sun Ra Arkestra, Sharon Jones, Thundercat, Headhunters and as unique musicians they've collaborated with, amongst others PJ Harvey, Mike Patton, John Parish and Stewart Copeland and Nic Cester (The Jet). Described by Rolling Stone magazine's as "the most fascinating, retro-maniac and genuine thing, that happened to Italy in the last years", Calibro 35 now count on a number of aficionados worldwide which includes VIP's fans such as Dj Food (Ninja Tune), Mr Scruff and Huey Morgan (Fun Lovin' Criminals) among others.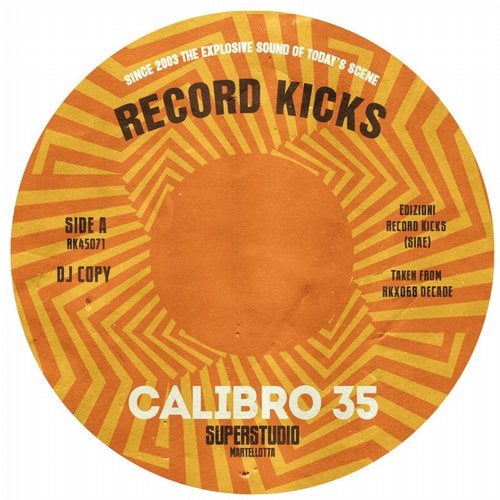 Release
SuperStudio / Gomma