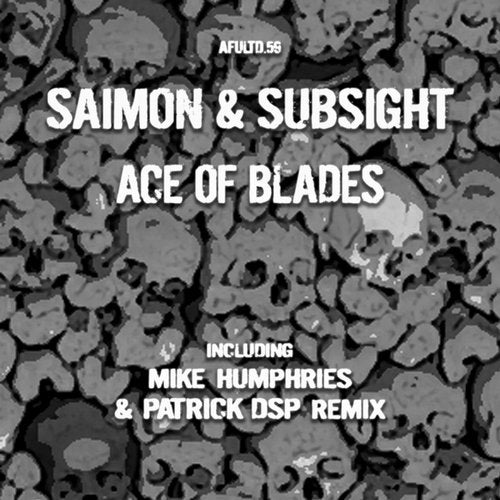 Release Date

2016-03-13

Label

AFU Limited

Catalog

AFULTD59
The AFU family is proud to add two great producers - Saimon (IT) & Subsight (FR) - to their artists and they start with a powerful 4 track Vinyl and 5 track digital release !
After a string of epic remixes on several labels the 2 undeground producers Saimon (IT) & Subsight (FR) decided to merge their sound and technical skills to produce a new series of great tunes directly designed for the dancefloors.

The title track gets a great remix by the underground techno legend Mike Humphrieswho delivers a re-constructed fat groove and funky techno soul. And last but not least another remix of Ace Of Blades gets a more heavier remix by the Canadian genius Patrick DSP..that distorts and warps the original sounds to give us his spicy dirty techno version.

Feedback AFUltd.59

- LxS nice package,AFUltd rox ×) thanks for the music - L'
- g-man akak gez varley slamming techno cuts .. full support from g-man/lfo...'
- Björn Torwellen Strong release, will pick sone tunes for my sets! thanks!'
- Drumloch Yeah ! Techno _ love it !'
- Alex Sander Massive Techno...Underground ways is a Bomb'
- Ethan Fawkes Mike Humphries remix is excellent :-)'
- 14anger Remixes are fierce !!'
- Xpansul High voltage!!! Loving all tracks. DSP's remix especially. Support!!!'
- Paco Osuna Will try thanks ,)'
- deKai sehr geil!'
- Raphael Dincsoy Humphries for the win!'
- Loukas Pour-Hashemi Yeahhhh all 3 mixes of Ace Of Blades, fucking right!!!!'
- Adam K Great energy'
- Misoo full support'
- L.A.W. Patrick DSP remix for us! Huge!!!'
- Andrea Frisina Will support !'
- BEC Nice release!'
- Markus Jogin Mike Humphries remix for me. Thanks!'
- Alalunadevalencia radioshow EP playing in my sets'

Support by Danny Tenaglia, Different Grooves, Regal, Marco Carola, Richie Hawtin, Regal, Markantonio, John Digweed, ...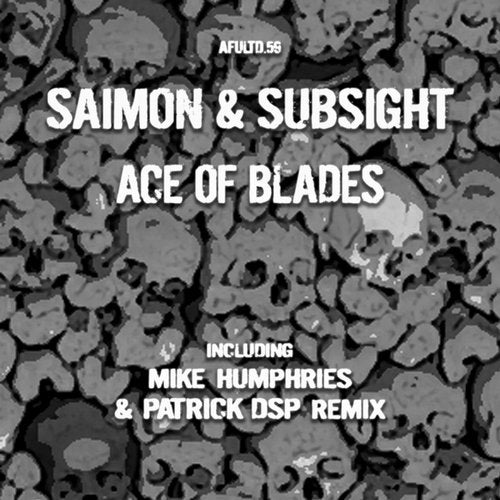 Release
Saimon & Subsight - Ace Of Blades
Release Date

2016-03-13

Label

AFU Limited

Catalog

AFULTD59