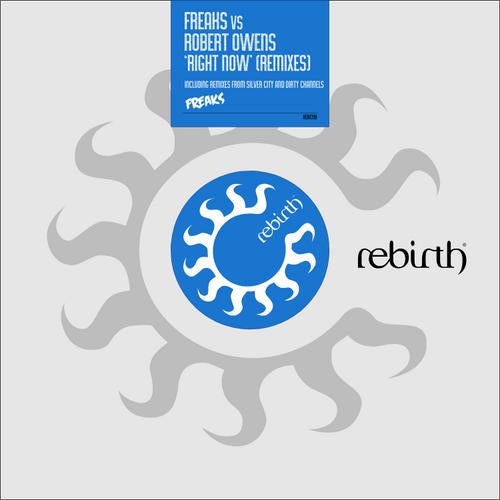 Release Date

2010-08-09

Label

Rebirth

Catalog

REB039R
The ever-evolving and never predictable musical venture that is Freaks is now in its 15th year of incarnation having first materialized in 1994 as the brainchild of London-based Luke Solomon and Bournmouths Justin Harris. They began recording for Phono (home of Herbert), and in 1999 they set up their own record label Music for Freaks.
The Freaks are back in 2010 with Right Now, a collaboration with the legendary Robert Owens, surely one of dance music's legends. With more than twenty years as a gifted singer, songwriter, producer and DJ under his belt, Robert has not so much embellished house music as played a large part in defining it. Songs like 'Tears', 'I'll Be Your Friend', Mine to Give (with Photek) and 'Ordinary People' are just some of the tunes that have borne his black velvet voice and gone on to become truly classics.
Right Now is a bit of a lost record that has never officially been released as a single but managed to make its way onto JT Donaldsons DJ mix album and Mark Farinas House of Om compilation on Om Records. Released on Rebirth in March with mixes from Glocal and Rotciv the record got support from djs like Deetron, Johnny D, Laurent Garnier, Simon Baker, Xpress2 eccWe repropose it now with a couple of extra hot mixes from Silver City and Dirty Channels.
Argentinean space boys Julian Sanza and Fernando Pilichino (Aka Silver City) add their signature bass heavy driving sound to the mix: guitars, real drums and bass, and proper keys ! This is magic and has sunrise or sunset written all over it ! Their space mixes are more dubby and dancefloor orientated ! A class rework !
Italian up and coming Dirty Channels rework the song into an epic mix, shaping the feel, shifting the texture, and building Robert Owens vocals into an elegant, inexorable monolith of sound.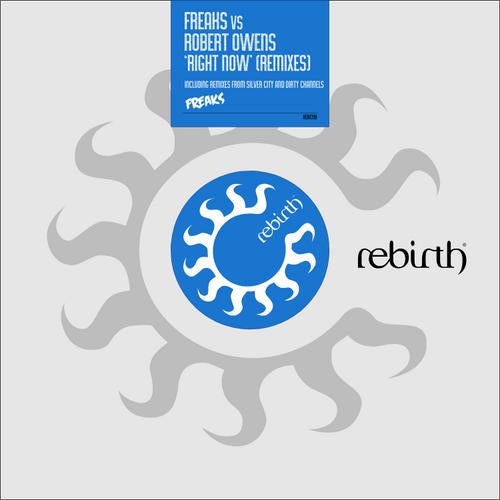 Release
Right Now (Remixes)
Release Date

2010-08-09

Label

Rebirth

Catalog

REB039R