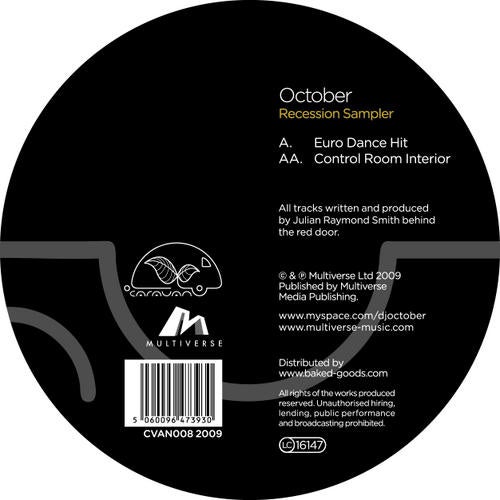 Release Date

2009-05-04

Label

Caravan

Catalog

CVAN008P
October returns to the control room for Caravan's eighth release delving into the sonic realm of both dubstep and techno with an experiment in dubbed out reductionism. This plate is the sampler for his forthcoming mix compilation 'Recession Vol.1' where his subtly referential and intensely futuristic sounds, collide, bringing together his own artistic intentions alongside the vibe of the label for the year ahead.

'Euro Dance Hit' is designed to break the rules and formulas of techno music, focusing on fracturing the rhythm principles of both dub-step and techno. Just past the half way mark, October introduces a Detroit style hook that engulfs over the groove, morphing it into an epic roller...hi-end crossover gear.

'Control Room Interior' leans more on the techno side of the things, oozing heavy sub frequencies through out to explore every crevasse of the club and dance floor, gently beating you into submission. Right from the start, there is a hefty sprinkling of dub all over the groove creating an atmosphere akin to creations by the likes of Basic Channel or Boards of Canada.

'Pear Rocket' is October's weirdest, wonkiest and darkest techno track to date. He focuses his attention on sound design and tape processing experiments, serving up somewhat of a textural treat. As with all of October's productions, the emphasis lies in the rhythm where he provides that element of funk that goes right through you - dubbing you into the future.