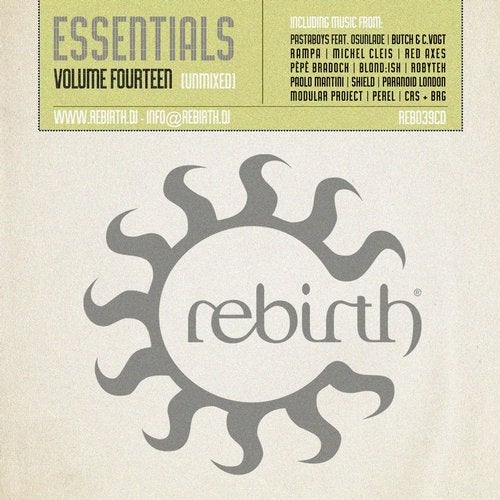 Release Date

2017-12-29

Label

Rebirth

Catalog

REB039CD
Another year of great music for Rebirthand to close with a bang, we present our brand new installment of the Rebirth Essentials compilation, including our best releases of the last 12 months.

Paolo Mantini, Italian musician and poli-intrumentalist with a true talent debuts on Rebirth with 'Next Generation, A sublime piece of music, completely composed with the piano, a soundtrack for our life and a message. Shield and Paolo himself re-edited the original version with the help of Francisco Mora at the drums, producing a totally new version with a live touch, exclusive for this compilation. While the French genius producer Pépé Bradock produced a trippy dub, using the piano melody in a completely original way.
Coming from Reykjavik and living in Glasgow, ILO is back on Rebirth with Comon Get It shaping again something from the past with a totally new look, for a strong and unique result ! Michel Cleis is back in 2017 with 'Obsoleto Lerobo, a track with an irresistible Hammond organ style synthesizer melody played in a jazzy, improvised way, Michel's warm and firing percussive beats and a penetrating bassline to die for.
Taken from the 'Rebirth 10 Remixed collection, Robytek's 'Luna Africana gets a remix from The hot Tel Aviv duo Red Axes who bring their trademark new wave sound to a tropical dimension. 'Deep Musique' by Pasta Boys Feat. Osunlade remixed by the Keinemusik boss Rampa was probably the biggest underground track of 2017. The italian duo Modular Project added their electronic-balearic touch to the Blond:ish vocal anthem Wizard of Love.
Straight out of Copenhagen, Nandu combines melodies with the enormous worlds of grooves, creating a unique deep and refreshing sound. 'See You' is a monster track featuring the haunting and sexy vocals of Vâlvâ. Annegret Fiedler aka Perel made an impact in 2017, 'Cantuccini' is a simple but very effective track with 808 patterns and acid bassline that will drive crazy every dancefloor.
A hit in the clubs in the last 12 months, Butch and Chriss Vogt get together to produce 'Bliss', another infectious tune, a mixture of live percussions, strings and a piano theme to die for !
To mark the 100th release on Rebirth, label owner Shield and his 'right arm' Robytek collaborated with Salvatore Principato (Sal P.) and Dennis Young (from the seminal early 80s NYC band Liquid Liquid). Gerardo Delgado and Quinn Whalley, the duo known as Paranoid London delivered an infectious acid groover, with authentic early Chicago House touches and a heavy dash of London-ready rudeness !
CRS+BRG (Cristian Addabbo and Giorgio Permattei) produced Erase, an instant floor burning house jam. An heavy groove withcrisp percussions, a slamming live bass, an hypnotic lead synth melody and anthemic strings make this track a winner !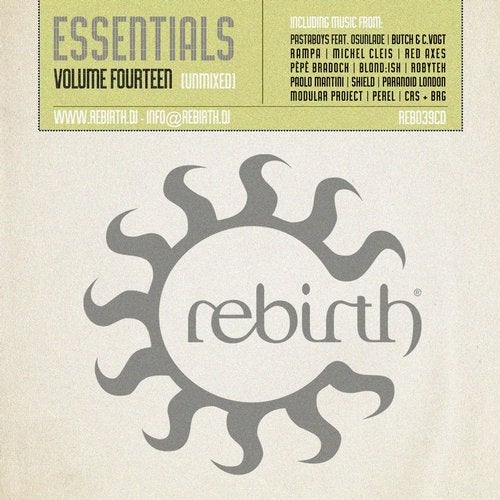 Release
Rebirth Essentials Volume Fourteen
Various Artists

Release Date

2017-12-29

Label

Rebirth

Catalog

REB039CD