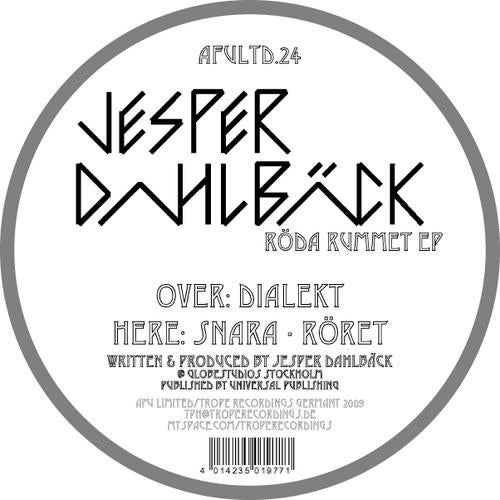 Release Date

2009-10-05

Label

AFU Limited

Catalog

AFULTD24
AFU LIMITED IS PROUD TO WELCOME ONE OF SWEDENS LEADING PRODUCERS AND HIS BIO SAYS IT ALL !!!!

Jesper Dahlback is one of Sweden's leading DJ/producers with a lengthy back catalogue to his name, including co-production on two Tiga albums, the Hugg and Pepp project with cousin John Dahlback, and remixes for the likes of Rex the Dog, Zoo Brazil, Arnaud Rebotini of Black Strobe, Thomas P Heckman, Robyn, The Knife, and Depeche Mode. Jesper has music in his genes, but it was the musical movements in Detroit, Berlin and London that inspired him to start producing techno, back in 1991 in his bedroom studio. Completely hooked, by 1993 he'd formed the Stockholm-based Globe Studios together with Peter Benisch and Adam Beyer (following a chance meeting on the train to Love Parade…) and has worked there ever since. In 1996 Jesper started the imprint, Blank, mainly for his own material, and simultaneously launched joint venture DK with Thomas Krome - one of the first labels in Sweden with a techno house crossover approach ! In addition to making music for various techno labels around the world and working with Planet Rhythm, Jesper met up with Swiss-born Stephan Grieder who had just started the Svek label. The duo started to experiment with different sounds, drawing on house music's roots, utilising vocals and acoustic instruments. Jesper now describes his sound as "ranging between the analogue sounds of the roland sh101 and the precision mathematics of my computer. I'm a researcher and developer of unheard sounds! Since the founding of Globe Studios, I have always been looking for new ways to bend the rules and test the unknown. When I DJ, I just play my own productions blending old classics with new unreleased demos." A producer first and foremost, Jesper's DJ dates find him weaving a soundscape of his productions, remixes and collaborations with new material at every gig, as well as musical elements and sounds worked through the set.
One of his favourite current ventures is his part in Jori Hulkkonen's Acid Symphony Orchestra, a 10-strong collective working on 303 machines. Hulkkonen conducts the group like an orchestra and August sees them warm up for Kraftwerk in Helsinki.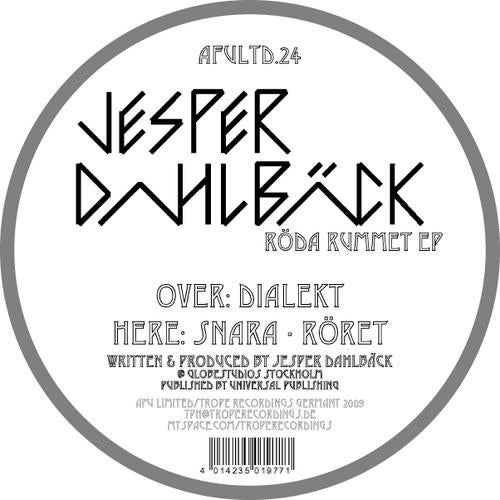 Release
Röda Rummet EP
Release Date

2009-10-05

Label

AFU Limited

Catalog

AFULTD24