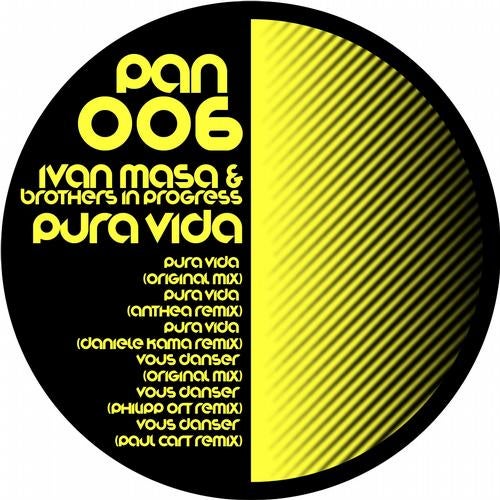 PINS AND NEEDLES are proud to present their latest release IVAN MASA & BROTHERS IN PROGRESS entitled PURA VIDA. This production trio has been successfully releasing their music on labels such as Quanticman Records, Draft, Escapism Musique and various others. Their latest work PURA VIDA includes two original tracks PURA VIDA and VOUS DANSER. The title track PURA VIDA is a tribal influenced Deep House production with a very addictive groove. The carefully arrange percussions, african influenced vocal snippets and groovy drum beat on top of a quirky baseline clearly define the trio\'s passion for House music. The second track VOUS DANSER is a more laid back House version with smooth synth sounds, catchy vocal parts, a funky baseline and a deep House beat that keeps you moving all night long. Overall both tracks are truly mastered for the dance floor and they surely won\'t disappoint anyone who is passionate about House music.
To round up this package we have an amazing line up of remixers for each track. PURA VIDA has been reinterpreted by one of Pins and Needle\'s favourite producers ANTHEA, known for her very successful releases on labels such as Desolat, Cecille, Tuning Spork and many others. The second remix of PURA VIDA has been produced by upcoming Italian DJ/producer DANIELE KAMA who certainly reflects his vast experience and musical influence in his track.
For VOUS DANSER we were lucky enough to get a remix of the very talented PAUL CART who created a more upbeat peak-time version of the original. And last but not least label honcho PHILIPP ORT took the chance and finalises the package with a deep, groovy reinterpretation of the original mix.



\'Ivan Masa & Brothers In Progress - Pura Vida\' is available on all major download sites worldwide such as iTunes, Beatport, BeatsDigital, Trackitdown and many more!!

\'Ivan Masa & Brothers In Progress - Pura Vida\' - All music Produced, Engineered and Mixed by Ivan Masa & Brothers In Progress. Remixed by Anthea, Daniele Kama, Paul Cart and Philipp Ort. All tracks mastered by Chase Buch at Harcourt Studios.


For more information about the release as well as all other inquiries check out our website at:

http://www.pinsandneedlesrec.tumblr.com

or simply contact us by email at pinsandneedlesrec@gmail.com.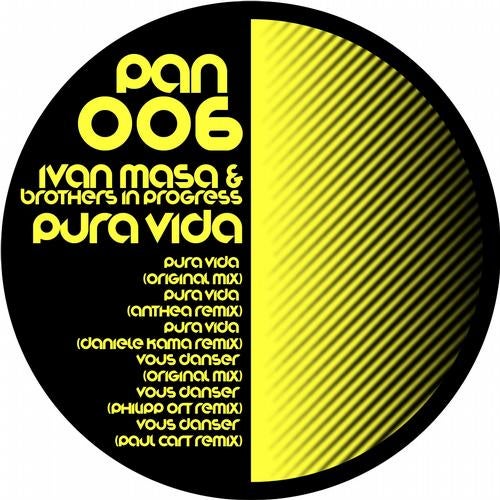 Release
Pura Vida