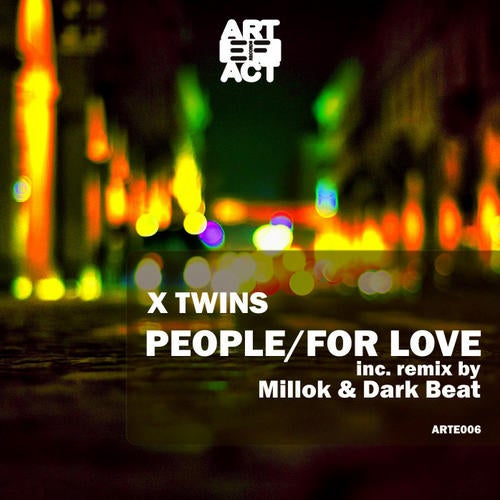 Release Date

2011-02-28

Label

Artefact

Catalog

ARTE006
Ready for love?
We've been hibernating for a while, but seems like we've found the perfect sound for the wake up call.

X Twins has served 2 beautifully warm and overflowing with atmosphere, swirling and building with incredible depth and clarity, perfectly rounded bodies for tracks to evolve. Simple and yet so infectious, their melodic breeze is a subtle and expressive ode to hypnotic house music.
Like opening the door to a secret garden full of wonders, the "People/For Love" EP (ARTE006) will gently lead you on spiritual journey.

The "deep thinker" from Montenegro contemplates with tough analog energy as a pushing solid state drum pattern opens into a rousing bassline-led theme. A freaky warbling synth tone becomes the main destination as warm, coal-fired beats pump throughout in "People". Splicing micro samples, elastic beats and beautiful synth work, this groovy late night journey track will sure make your mind wander in beautiful destinations.

The Millok & Dark Beat remix has a more tripped out jam on the theme, featuring vocal manipulations and deeper-than-deep synth hypnosis. Moody, utterly deep, and yet again with a heavy, warm aesthetic sound.
Capturing a unique vibe and simply rolling with it, delayed spaced-out chambers grow and recede in this nonchalant groove tool. Needless to say its a killer for the late, late hours.

And finally, the powerful opening tones of "For Love", served up with a healthy dose of funk and yet more classic-inspired deep house chord play, combine super funky, upfront nu-house beats with soulful, heart-melting musicality, and powerful but subtle vocals.
Densely strung together with filmic horn stabs, spooky atmospherics and dramatic crescendos, its a mysterious track for those off-the-wall moments.

Just sit back, relax and get ready for love, people!