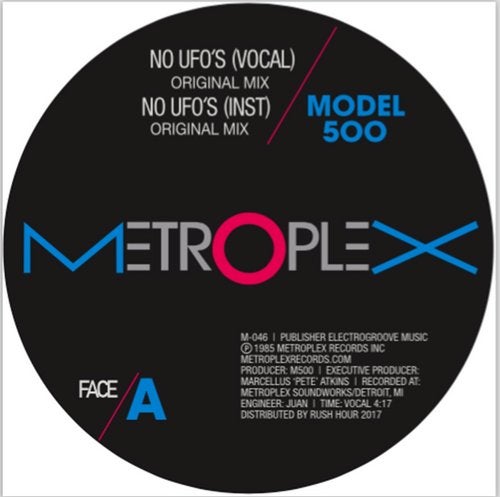 Juan Atkins aka The Originator about No UFO's

No UFO's was the first release on my label metroplex records which I started in nineteen eighty-five, after leaving the group Cybotron. This was my first solo endeavour. Catalogue number M001 originally.

No UFO's was a smash hit in Detroit coming out of the gate, it was released during the time where The Wizard aka Jeff Mills was on the radio. A soon as he got it in his hands on it, he putted it in heavy rotation in his mixes and it became instant smash hit in his radio show. Also, this was the time of house music in Chicago, so Dj's as Farley "Jackmaster" Funk, Bad Boy Bill, Ralphi Rosario, Julian Jumpin Perez, and Fast Eddie among others. Therefore the record became also smash hit in Chicago.

Derrick May and Blake Baxter use to drive Blake's pickup truck full of vinyl 12 " to sell in them Chicago and from there the records were exported to the UK. Thats one of the things I remember very vividly about that release It was such a cornerstone and ground braking track in the development of Techno music, house music and EDM in general.

The idea behind the remix 2017 is why to reinvent the wheel when we can get the source material that created the wheel in first place and reworked. Also I wanted to incorporate collaborations with some major players nowadays like Moodymann and Luciano. That will make it possible to reach a newer, wider and more diverse audience.

No OFO remixes will be released in vinyl on 21st. November 2017 in the iconic label Metroplex Records as a double pack under catalogue number M046. Digital release date on 11th January 2018.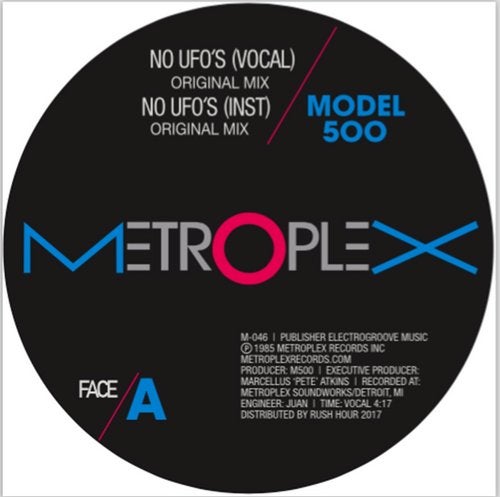 Release
NO UFO's (feat. Juan Atkins) [Remixes by Moodymann and Luciano]