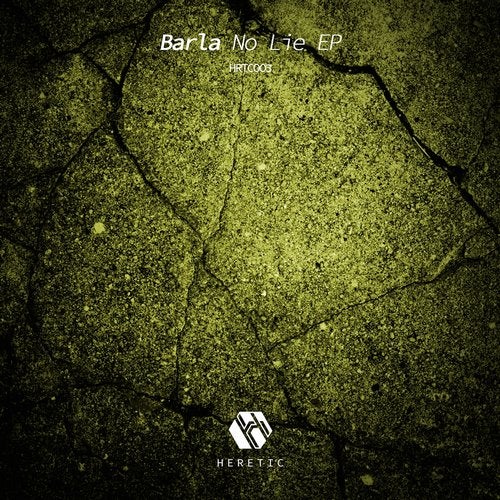 Release Date

2015-04-13

Label

Heretic

Catalog

HRTC003
After the success of Wolf 's 'Drifting Away' EP, Heretic deliver yet another debut EP from producer Barla. Not a lot is known about the newcomer, but that is simply because the young producer prefers to let his music do the talking. Having featured on the label's Compilation: 001 and gaining support from the likes of Dusk & Blackdown and plays on Rinse FM he is certainly on the rise.

'No Lie' EP consists of 3 deadly original tracks combining jungle murk with tribal rhythms, backed with two forward thinking remixes from Boxwork & Paperchase guaranteed to slay any dancefloor.

As a faint drone emerges out of ticking hats 'No Lie' opens up proceedings, teaming thunderous 808's with tribal percussion guide you into a distorted bass odyssey. Barla starts as he means to go on.

Next up 'Takes' means to delve deeper, Junglist atmospherics lead into huge distorted bass drones; driven along with intricate break beats and a luscious vocal.
'Chaconne' is the last but no means the least of the three original tracks, showing off Barla's diversity as a producer. Dreamy violin- like stabs combine with signature 808's, the rhythm remains ever switching throughout.

Finally the remixes drive the EP straight to the heart of the dancefloor. Heretic affliate Boxwork takes 'Chaconne' further into tribal territory adding mutant basslines to his signature hyperactive sound. Paperchase finishes off proceedings by remixing 'No Lie', adding serious drum-track characteristics in the way only he knows how.

Tracklist:
01.No Lie
02.Takes
03.Chaconne
04.Chaconne (Boxwork Remix) 05.No Lie (Paperchase Remix)

All tracks written by Barla. Mastering by @Allmostt. Artwork by Cloaka.