Voxel9 - Nature [basscd009] - (Bass Star Records / Geomagnetic Records)
http://www.geomagnetic.tv/news/basscd009 <-- Full Preview
http://www.psyshop.com/shop/CDs/bas/bas1cd009.html <-- BuyNow!
http://www.facebook.com/BassStarRecords <-- follow here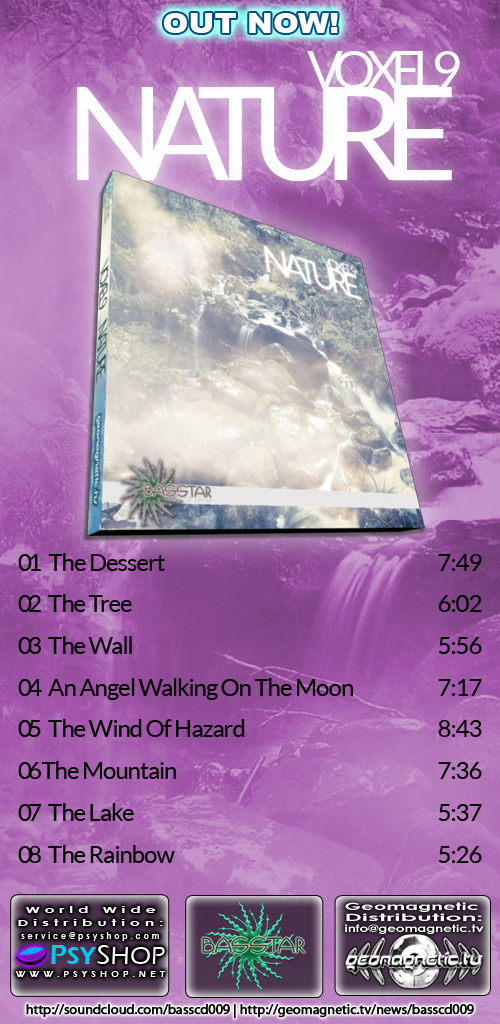 Title: Beyond
Artist: Voxel9
Label: Bass Star Records / Geomagnetic
Catalogue: BASSCD009
Format: 2 Panel Jewel Case CD
Barcode: 881034378101
Release: June 2012
TRACK LIST
01 Voxel9 - The Dessert
02 Voxel9 - The Tree
03 Voxel9 - The Wall
04 Voxel9 - An Angel Walking On The Moon
05 Voxel9 - The Wind Of Hazard
06 Voxel9 - The Mountain
07 Voxel9 - The Lake
08 Voxel9 - The Rainbow
09 Voxel9 - Waterfalls
Release Notes:
Voxel9 aka Trinodia aka Daniel Eldstrom & Bass Star Records presents part 2 of this amazing concept album made for the ambient chill out world. Voxel9 presents a special 2 part album presented by Ovnimoon Records (part 1) and Bass Star Records (part2) that begins its voyage BEYOND with a deep and meditational night time journey into the inner regions of your mind and soul. As the 3 Phase experience concludes you gently transition back to the natural world with the mystical closing track CALLS OF NATURE.
Beyond as an album shows off Daniels ability to fully engage the listener through minimal and subtle changes using low tuned atmosphere and deep tribal rhythmic pulses. Daniel started making tracks under this project called Voxel9 when he put the trance-producing on the shelf for a while in 2000. Voxel9 is an more ambient/electronic side of his production through which he earned how to produce music more as landscapes of sounds and not only melodies and weird sounds. This perfected use of slow layering of sounds is done for the world to experience a complete trip while listening to his music. Voxel9 is from Sweden and first found his love for performing psychedelic trance in 1992, since then he has been perfecting his sound and releasing his musical creations on his own and through net-labels since 2003. After the successful release of Daniels Goa Psychedelic trance album "Trinodia - Stargazing" on Ovnimoon Records, his story continues into the great beyond. Expect many more releases from both projects, for this multi-talented and prolific musician has many more stories to tell. The journey continues on the 2nd album NATURE. This multi environment quest through transcendental pathways always presents a perfect picture of your divine self while also setting your inner child free to roam and play.
http://www.trinodia.net
http://www.facebook.com/trinodia.net http://soundcloud.com/voxel9
http://www.youtube.com/user/Trinodia
http://www.twitter.com/trinodia
Bass Star Records formed in summer of 2007 and is focused primarily on breaks, dub step, electro house and down tekno grooves. Expect lots of wild unpredictable new cuts coming from this phatty side project from Geomagnetic Records Label Group.
Geomagnetic.tv www.geomagnetic.tv was established in the summer of 2001. Their first major international release is the legendary DVD project "MAGNUS" geodvd001. Since then they have added 30 label artists and have multitudes of projects in the works for 2006 and beyond. Based in San Francisco and focusing mostly on visual and music related projects, you can expect to see lots more cutting edge releases on the way from this award winning crew! Geomagnetic.tv was started by Spook one of the founders of the prominent San Francisco 3D FX and Multimedia boutique known as Minds Eye Media (est.1995). www.mindseyemedia.com
CREDITS/CONTACT INFO:
Written & Produced by Daniel Eldstrom
Distribution by Psyshop & Geomagnetic Distribution
(p) and C www.Geomagnetic.tv
http://www.geomagnetic.tv/news/basscd009
info@geomagnetic.tv
Release
Nature