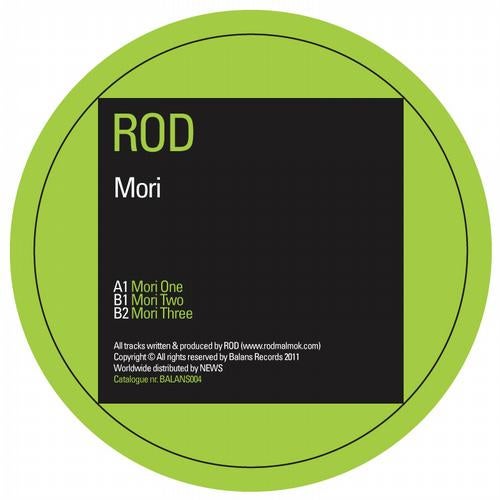 The mysterious ROD enterns the Balans arena with an uncompromising, abstract techno affair. Little can we tell you about this mysterious character. Only that a famous DJ from RODterdam is behind this alter ego and that he did a very well received EP on Ben Klocks Klockworks earlier this year.

The music coming from this persona is one hundred percent puristic, stripped down, DJ tool Techno. With a capital T you have seen that right! No nonsense hypnotism as we rarely see it nowadays. Three or four sounds per track, each pushed and stretched inside out for maximum result. These tunes are made for dark, strobe lid cellars or underground techno temples such as Berghain.

Techno is back and this is about as abstract and underground as it gets. We look forward to release more ROD records in the future.

Adam Beyer Liking Mori 1 a LOT!! Playing and supporting.

Richie Hawtin - Downloaded.

Carlo Lio - "Cool stripped down tooly techno with a proper old skool feel... def for the latenight ... will def give this a run."

Secret Cinema - "Wish I was Jeff Mills.... "

Norman Nodge - "The tracks heavily remind me of "Malmok", but anyway: good stuff, will play!"

Karotte - "Great tracks. Love them all! Full support from me for sure."

Dan Curtin - "This is some sweety shit, definitely playing and supporting these, nice work!"

Angel Molina - "LOVE this record, the 3 tracks. ALL my support to it!!"

Shlomi Aber - "The Mori 1 is sounding cool for me. Supporting!"

Edwin Oosterwal - "Awesome EP! Right up my alley. Go ROD!"

KiNK - "Great stripped down but crazy techno record! Its hard to pick a favorite track, all of them fit together so nicely."


Ben Sims - "Fine machine workouts from ROD, great stuff, thx for sending!"

Deetron - "Oh yeah, very tasty techno bits which sound modern and oldschool at the same time, love it!"

Quince - "Nice oldskool techno-vibes here! Mori Three is my fave. Thanks!!"

Jori Hulkkonen - "Love it. Reminds me of the mid90s Swedish techno scene = win."

Patrick Lindsey - "Mori Three is GREAT!!!! Big love from me."

Sian - "Solid tracks from ROD!! Number Two is my fave. Ill give it a spin."

Samuel L Session - "Some good techno here, he has a good feeling for it and I look forward to watch him grow."

Daniel Stefanik - "Techno is back! I'm a fan of this release! "

Kiko Martínez - (DocePulgadas Radio Show Spain) - "Nice pack of Techno, thanks!"

Diversions - (CHRY 105.5FM Toronto, Canada) - "Very addictive release - all three parts are pumped up minimal groovers with great flow!"

Corin - (Music Editor BLN.FM) - "Downloading for bln.fm .also will support in my sets!!"

Sergio B - (deejay.es) - "The sound achieved is interesting, Mori Three is very liquid. Mori One it is a linear techno. Reminds the tech-minimal that made in 2007-08 Perhaps it could be more powerful on underground clubs. The best is Mori Two."

Eduard C - (Deejay Magazine Spain) - "Mori One is great! Yeah! Thanks."

Scan Mode - (DJ Magazine Spain) - "Fat techno tracks! Love it."

De:Bug Magazine Germany - "Considering for review."

Brendon Moeller - "Oh yes these are fine techno toolz! Ill be using them!"

Pär Grindvik - "Feeling the whole release! Mori three is just great! Thanks."

Mauro Picotto - "I like it!!! Ill be playing Mori One this weekend!"

Dan - (Pig & Dan) - "SICK!! Really up my street! Will bash all of these out!"

Tedd Patterson - (Cielo/ NYC) - "This rocks! Mori One gets the prize but Im feeling the others as well."

Gregor Tresher - "Wow - great stuff! All three tracks are ace for me, great to have some proper Techno for the weekend."

Orde - (Slam) - "Mori One is very very nice - playing!!"

Kyle Geiger - "I like all of them very much, but Mori Three is the killer for me!"

Troy Pierce - "Mori Three is rockin it for me. Def gonna spin that! Thanx for sending."

Dustin Zahn - "Nice stripped down minimalistic tools. I like them!"

Stephan Bodzin - "Bomb ep!!!! All 3 tracks will find their way into my crate. Big time."

Rolando - "All 3 tracks are dope!!!! Cant wait to drop these at Berghain!!!"

Joel Mull - "This will help me lock down the people in to the groove. Great release. Full support."

Oliver Huntemann - "Mori One is the big one for me! Thumbs up! "

Agoria - "Mori One is perfect for tonight at Loft in BCN!! Big support!"

DVS1 - "Mori Three is the track Il be playing off this EP. Very nice! Thanks!!"

Pig - (Pig & Dan) - "Awesome techno grooves cant wait to play with these:)"

EFDEMIN - "Mori Two is a VERY good tool!!"

Marco Bailey - "Sounds like Damon Wild in the 90's ....lets see ..thanks."

Dimi Angélis - "Yeeah! Great EP, ROD Rocks! Mori Three for me!"

Lucy - "For the heavier moments, this is it!! Mori Three!!"

Laurent Garnier Ohhhhh YESSSSSS!! Mori Two will get played for sure!

Steve Rachmad My big favorite here is Mori Three!! Been playing this monster for some time now:) Got the other 2 a bit later but my other favorite is Mori One. Great E.P. overall!

Club Madnezz Holland - "Mori Two is a perfect Dj tool."

Chris Ç - (Dinamo.fm / Acik Radio Istanbul) - "Cool suff. Will play Mori Two."

Barry Redsetta - (Spin1038/dublin) - "Functional club tackle. reminds me of 'Astral Dreams'. I think."

Raphael - (Partysan / Stuttgart) - "Killer release!"

Tsugi Magazine France - "Mori One is a nice one."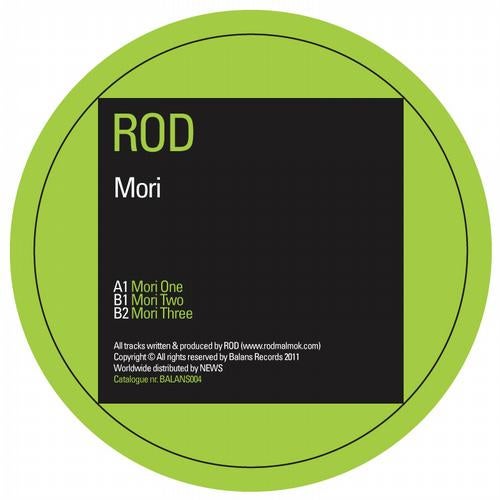 Release
Mori EP