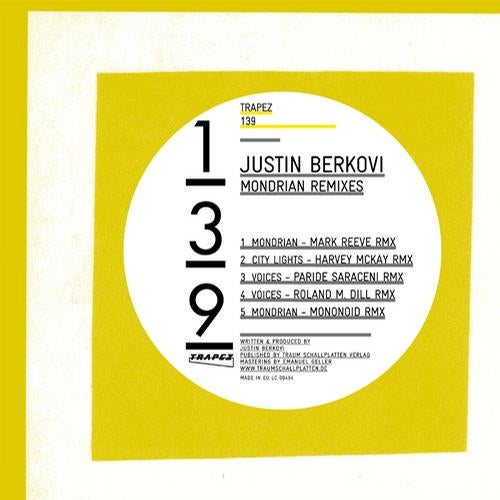 Release Date

2013-02-11

Label

Trapez

Catalog

TRAPEZ139
Following the long player "Mondrian" in 2012 by Justin Berkovi on Trapez, which was supported by Richie Hawtin in the mix and several others DJs, we present now the remixes by some of our best artists on Trapez plus guest remixes.
Starting with Mark Reeve, who has a great career ahead of him after recording with Traum and then with Trapez he released with Drumcode and Soma.His remix of "Mondrian" resembles what Mark is so good at taking true and classic elements of post Detroit Techno and fusing them with today's modern sound design and taking it all to the level of a monstrous techno-tool anthem!
Marks tracks never let you down... his grandeur of production quality and sound quality shows you why he is in so many DJ cases right now.

Harvey McKay uses these irresistible "post Detroit" loops we love so much because they have levelled the ground for techno to enter the world of dance music. His raw industrial appeal is highlighted also in this remix of "City Lights" and feels like a meal that heats up your full body. Another piece of techno soul from the Scotsman.

Paride Saraceni has the bassline roaring big time and despite all this massiveness his production stays gentle and warm sounding which makes it a real crowd-pleaser of a track! The central chord theme in his remix is a true spirit catcher you'll happily surrender to

.Mononoid from Traum liked the album so much that they have remixed "Mondrian" in their fashion, so this remix is definitely the most epic and melodic on this remix ep and for all fans of theirs another fine track you should be looking out for.

A lot of people ask us, "whatever happened to Roland M. Dill", so here comes the answer told in the language he knows best which is music. Roland here works a lot with repetitive pattern delays, a super tight percussion programming and a darkish landscape of sounds. His remix explores sounds quite a bit and when its over....you feel similar to an heavy impressive movie you have seen in the cinema when the lights go on.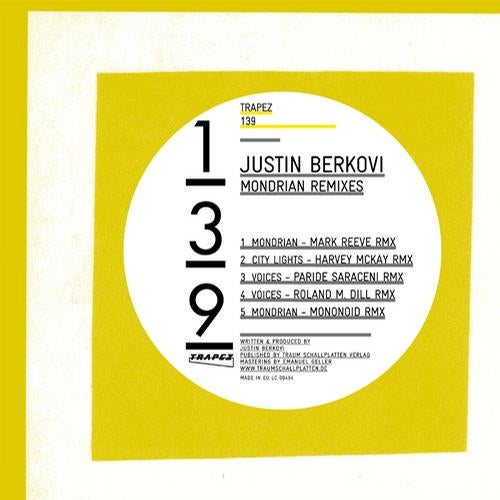 Release
Mondrian Remixes
Release Date

2013-02-11

Label

Trapez

Catalog

TRAPEZ139