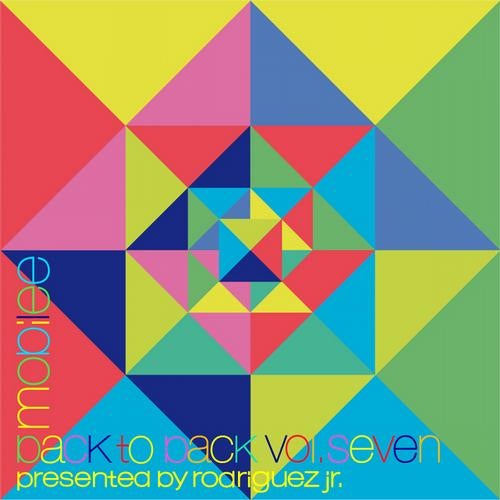 Release Date

2013-04-05

Label

Mobilee Records

Catalog

MOBILEECD0160208648MBE
ENGLISH

Mobilee Back To Back Vol. 7 - presented by Rodriguez Jr.
After his first album, "Bittersweet" came out on mobilee in 2011, Rodriguez Jr. became the fastest growing name on
the imprint to boot. But the buck doesn't stop at one album, a few singles on mobilee and several other releases on
the likes of Mothership and Systematic. When he's not cranking out solid live sets on the international club circuit,
blowing up rooftop parties or filling up festival stages, this ambitious French producer commits to some serious time
in the studio where he recently wrapped up his latest compilation for the mobilee "back to back" series.
Inheriting the honours from last year's "back to back" artist duo, Pan-Pot, Rodriguez Jr. knew the boys raised the
bar high this year. As always, CD1 unravels 11 tracks hand-selected by His Majesty including recent hits such as
"Good Times", "Black Mamba", "White Fiction", "Scenario", "Something That's For Life" and more. CD2 unmasks
nine exclusive "back to back vol. 7" tracks, produced in collaboration with Anja Schneider, Pan-Pot Tassilo, And.Id,
Sebo K, Ray Okpara and Safeword. The featured mobilee artists contributed by throwing in a few loops, stirring in
extra sounds and dropping a few beats as Rodriguez Jr. polished them shiny. Volume 7 is the most colorful and
eclectic "back to back" yet.

Rodriguez Jr.

For a solid 10 hours a day, Mateu manifests Rodriguez Jr. in his MLab Mk5 studio, which brims with vintage
synthesizers, keyboards and dusty analog gear. Acclaimed Rodriguez Jr. releases for imprints such as Mothership,
Boxer Records and Giant Wheels, prefaced the quirky melodies of his bass-driven house hit Princess Guacamole
for mobilee records, and the tropical techno of Kids of Hula for it's sister label Leena Music. Drawing both pleasure
and inspiration from live performance, Rodriguez Jr. relishes the opportunity to realize his project on the stage, and
has done extensively throughout Europe and America during some of his most acclaimed shows at Tomorrowland
in Belgium, ADE in Amsterdam, Sonar Off in Barcelona, Showcase in Paris, Watergate in Berlin, Hardpop in Juarez
and Kristal in Bucharest. A heavy milestone was passed when his first-ever solo album titled Bittersweet" was
released on Mobilee Records in 2011.

GERMAN

Mobilee Back To Back Vol. 7 - presented by Rodriguez Jr.
Sein erstes Album, "Bittersweet", erschien 2011 auf mobilee und sofort gehoerte Rodriguez Jr. zu den
Zugpferden des Labels. Naturgemaess versiegt die Leidenschaft fuer die Musik nicht nach einem Album und einigen
Singles. Wenn Rodriguez Jr. nicht mit seinem elektrisierenden Live-Act durch die internationale Clubszene zieht,
Dachterrassen-Partys zum Explodieren bringt oder die Massen vor den Festivalbuehnen zusammentrommelt, zieht
sich der ehrgeizige franzoesische Musiker ins Studio zurueck. Juengst stellte er dort seinen Beitrag zu mobilees
"back to back "-Serie fertig.
Rodriguez Jr. uebernimmt das Zepter von Pan-Pot und ihm ist natuerlich klar, dass die Jungs die Messlatte hoch
gehaengt haben. Die erste CD protzt mit elf von ihm ausgewaehlte mobilee-Hits 2 darunter "Good Times", "Black
Mamba", "White Fiction", "Szenario" und " Something That's For Life ".
Auf der zweiten CD sind neun exklusive, in Zusammenarbeit mit Anja Schneider, Tassilo von Pan-Pot,
And.Id, Sebo K, Ray Okpara und Safeword produzierte Stuecke zu hoeren. Diese mobilee-Artists haben ein paar
Loops, Sounds und Grooves in den Ring geworfen - wir erleben, wie sie von Rodriguez Jr. auf Hochglanz poliert
werden. So ist Volume 7 die farbigste und vielfaeltigste "back to back"-Folge bisher.

Rodriguez Jr.
Rodriguez Jr. ist als Olivier Mateu in Suedfrankreich aufgewachsen. Seine jugendliche Neugierde auf Musik lebte er
in Klavierstunden und in seiner Begeisterung fuer die elektronische Musik aus. Als Haelfte der Youngsters
veroeffentlichte er zwei Alben auf Laurent Garniers Label F-Com. Der Erfolg der Youngsters machte ihn von
einem auf den anderen Tag international bekannt. Als Rodriguez Jr. laesst uns Mateau an einer anderen Inkarnation
seiner musikalischen Psyche teilhaben. Sie wird von einem kaleidoskopischen Blick getragen, der mal auf
schimmernde, kontemplative Electronica, mal auf mitreissenden, draengenden Techno, dann wieder auf zuckersuesse
Melodien oder schrullige Pop-Refrains faellt.
Seine kreativen Schuebe verarbeitet Rodriguez Jr. mit Vintage-Synthesizern, Keyboards und verstaubten Analog-
Geraeten vollgestopften MLab Mk5 Studio. Gefeierte Tracks veroeffentlichte er auf Mothership, Boxer oder Giant
Wheels. mobilee drueckte er seinen unverkennbaren Stempel mit den irrwitzigen Melodien und den
bassgetriebenen House Grooves von Princess Guacamole" und dem tropischen, trippigen Techno von Kids of
Hula" fuer das Schwester Label Leena Music auf.
Rodriguez Jr."s Live-Act ist ebenso legendaer wie seine DJ-Gigs. Juengst verzauberte er die Crowds im ADE in
Amsterdam, beim Sonar Off in Barcelona, im Showcase in Paris, im Watergate in Berlin, im Hardpop in Juarez und
im Kristal in Bukarest.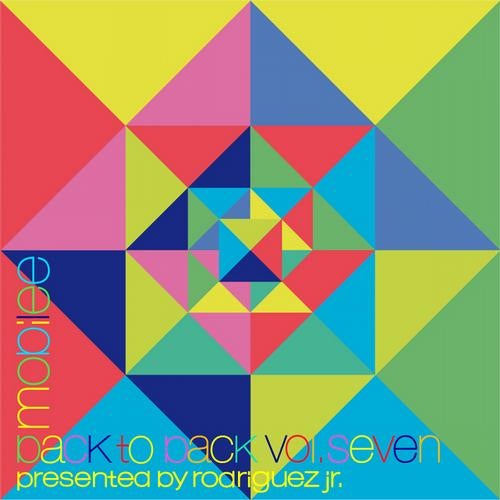 Release
Mobilee Back to Back, Vol. 7 - Presented By Rodriguez Jr.
Various Artists

Release Date

2013-04-05

Label

Mobilee Records

Catalog

MOBILEECD0160208648MBE