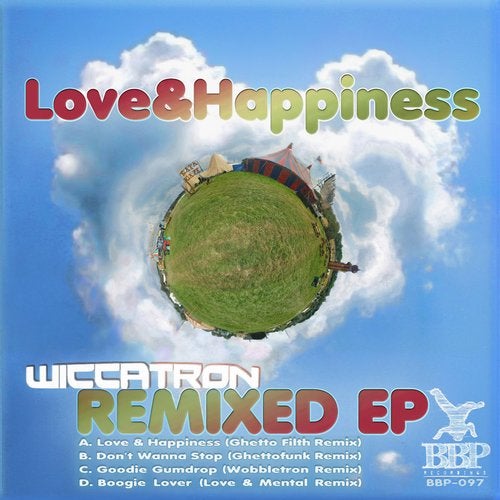 Release Date

2014-11-27

Catalog

BBP097
We are proud to present this anniversary EP on Breakbeat Paradise Recordings!

Sparked by grandma's old vinyl collection. Re-fuelled with Wiccatron's latest grit on the ghetto funk and electronic scene with enough breaks and bass to drop grandma's teeth to. On the remix duty with big beats and breaks with enough funk in between to feed your ears for days. A truly sun kissed 70's funk-flavoured big beat and ghetto funk mashup collection on this 5th EP release from danish producer Kim Sørensen aka Wiccatron, Breakbeat Dj and Co-founder of Breakbeat Paradise Recordings.

Wicatron is best known for his love of breaks and funk and all things in between. Teaming up with BadboE 10 years ago they took the first early steps towards creating the BBP Label known today, that benefitted from Wiccatron's live experience and long time studio and collaborative fieldwork.Rounding 5 EP's, one studio album '9Fingers' and upcoming live events, he has come a long way since programming his first 4 track music on 'Commodore Amiga' used back then for demos and games at so-called 'demoparty' gatherings in the nineties.

This is Wiccatron's 5th Ep celebrating with sublime groovy remixes in the big breaks and ghetto funk department. So buckle your seatbelts - enjoy the ride!

A. This happy jam kicks off with a dusty needle on grandma's old favourite vinyl. Love & Happiness (Ghetto Filth Remix) gives us crisp filthy ghetto funk over a banging steady beat and harmonicly fitting MCs with a feel of oldskool funky breaks that ends in a big breakdown. Everything we love here at BBP.

B. Don't Wanna Stop (Ghettofunk Remix) introduces Wiccatron's 70's commerciality approach to signature ghetto funk. With maximum disco lights and ghetto beats until the rap and wobble basslines comes in to grab you. This remix is as catchy as the plague and would start up any party.

C. On the third cut of the EP it's all about the big beats and funky ghetto bass lines flavoured with that original Wiccatron electro funk sound. Funky happiness and and wobbles on the menu with sexy 70's Rock Me Again vocal in Goodie Gumdrop (Wobbletron Remix).

D. Boogie Lover (Love & Mental Remix) brings us a bit more 'bang to the beat' on the uptempo side of these remixes. It opens up with 70's boogie bass smoothed over an armoury of humming blues vocals, happy breaks and wobbly acid stabs. A breaky boogie take on the Love & Happiness track. Finally the oldskool raver will love when the 'bang to the beat of the drum' rap kicks in before the night is over. Taking it all the way to ravers heaven and a happy ending.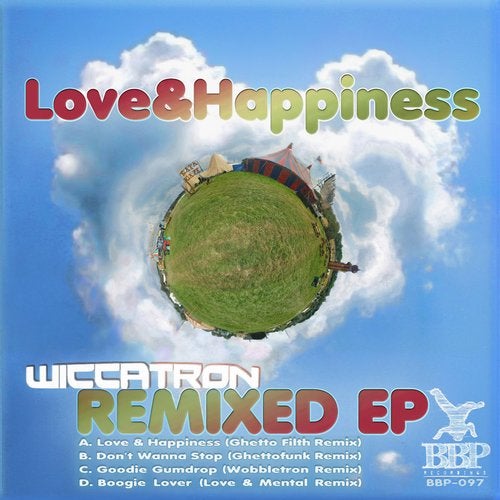 Release
Love & Happiness Remixed EP
Release Date

2014-11-27

Catalog

BBP097