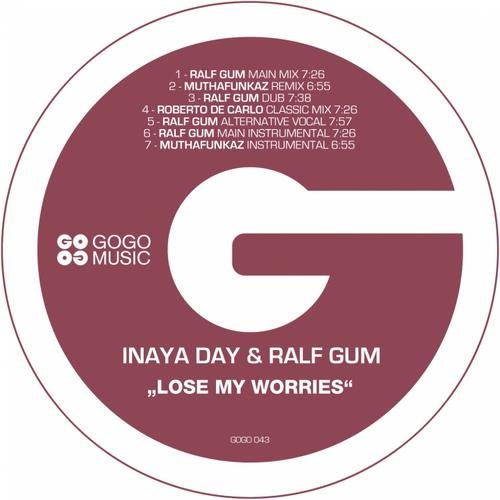 Release Date

2010-09-06

Label

GOGO Music

Catalog

GOGO043
Inaya Day and Ralf GUM are back on GOGO Music with this soulful outing including remixes by the MuthaFunkaz and Roberto De Carlo.

Inaya Day has just celebrated her 14th year in house music, and what a footprint she has made on dance floors worldwide. Yes, you've heard her voice on classics like the 'Horny' track, "Nasty Girl" or "Keep pushin" to name just two of her string of hit-singles. She had numerous Aria and Billboard top tens and is still going strong! Who knew that this card-carrying member of the Actor's Equity Association, groomed in church and musical theater, would become one of the most frequently heard voices on the Universes dance floors. The New York's Diva is no stranger for GOGO Music fans since a while, as she already collaborated on "What I like", "Try Me", "Easy" and "The way it was" with Ralf GUM, who she calls her favourite producer in Europe.

Ralf GUM goes from strength to strength since a long time and is called a pioneer of house music thanks for his distinctive qualities in his exceptional productions and DJ-sets. He embarked on the development of his own record label GOGO Music in 2001, which meanwhile has become Germany's, if not one of world's most reputable house music labels. His last singles all made it to the top spot of various download-charts and he's steadily touring for DJ performances in the best venues around the world, including his appreciated debut at Europe's prime soulful dance festival "The Southport Weekender" earlier this year. He delivers four mixes of the gospel inspired "Lose My Worries" pulling all strings of his renowned studio skills to make you move on every imaginable occasion.

With a career span of more than 20 years and his famous studio work DJ Spen has to be called a legend in the house music industry. He began his career at the tender age of 13, producing mix shows for WEBB AM in Baltimore. His production talents lead him to Basement Boys Records in 1989. With the formation of The Basement Boys record label in 1994, Spen formed Jasper Street Company. With the Basement Boys and Jasper Street, he gained consistent commercial and dancefloor success, and became an in-demand remix producer. He has created mixes for some of clubland's biggest names, such as Diana Ross, Everything but the Girl, Ann Nesby, and Shaun Escoffery. Having reached his full potential with Basement Boys, Spen stepped out on his own and partnered with Gary Deane at Code Red Recordings in January 2004. He hasn't stopped moving since! He has formed a new group called the MuthaFunkaz who contribute a skilful remix in their typical inspirational sound they become famous for to this release.

Roberto De Carlo released his first official remix under the project-name "Souldrops" in 2003. It was followed by his productions "Freedom" together with Inaya Day and "One Touch - Ready?!" together with "The Soul Voice" Colin Corvez Rich in 2004. It was the same year when GOGO Music released Roberto De Carlo's remix of "Seek - Everafter". The collaboration with GOGO Music ever since became closer and Roberto released 3 singles on this imprint since then, including the club-hit "Roberto De Carlo feat. Joshua - Soulful Things". It was licensed to several compilations including the "Connected" series of Jay-J on Defected. For his funky remix of "Lose my worries" he teams up with the celebrated musician Simon Grey who lends his amazing keyboard skills to the project.

"Lose my worries" sees Inaya Day on top form and follows up Ralf's single "Complicated" which featured Kafele and became one of the most acclaimed soulful house releases in 2010 so far.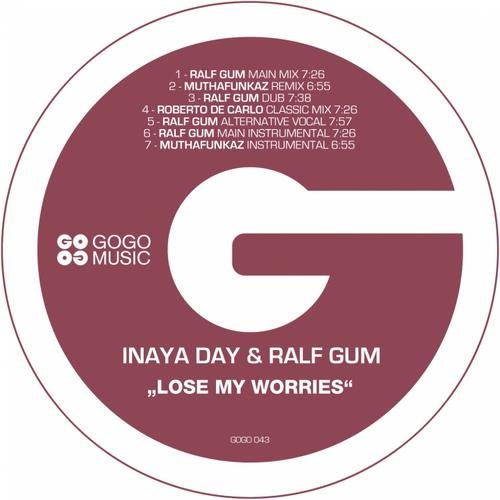 Release
Lose My Worries
Release Date

2010-09-06

Label

GOGO Music

Catalog

GOGO043