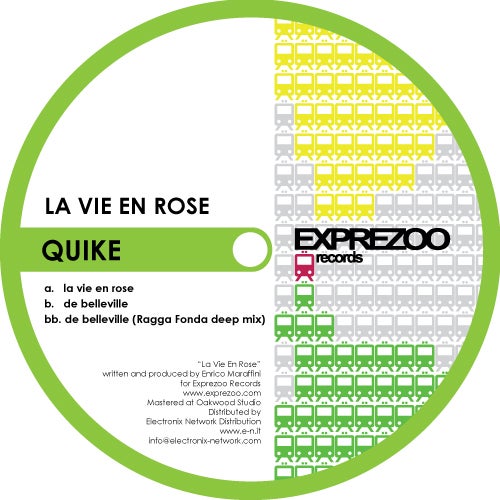 Release Date

2009-07-16

Label

Exprezoo

Catalog

EXPV002
"PRESS and FEEDBACK: A long time ago, Italians (particulary the ones from Neaples) were known all around the world as ""pizza, spaghetti & mandolino"", until a time came when a generation of great producers turned the stereotype into ""pizza, spaghetti, mandolino & funky techno"", creating a world-famous scene and giving birth to an immediately recognisable style: but this was some years ago.
Now that those big producers sit among the world's top djs and tour the globe with their sunny and warm techno, it's time for some new and talented kids to enter the Neapolitan techno scene with their new and fresh ideas and we at the Exprezoo headquarters are always looking for fresh and new creative ideas, so we found one of them who seems to have a brilliant future ahead: his name is Enrico Maraffini aka Quike and his ""La vie en rose ep"" joins the usual Neapolitan techno style with a house feeling that really moved us.
The title track has an extremely melodic and classy female vocal that turns the typical Neapolitan groove in an ultra-hot tune that will bring the Italian sun in every open air and every club in Ibiza this summer, while on the other side ""De belleville"" reenforces the long-lasting link between Neaples and Detroit with a bomb that tastes like sweating and hands in the air.
To complete the ep, then, Rio Padice aka Ragga fonda's remix for ""De belleville"" puts the focus on the housey soul of the original track adding a deep and melancholy atmosphere that brings images to mind of dawn on the seaside. Feedback: Laurent Garnier
Nice pumping house music,really like ""La vie en rose""...will play for sure,Very good Stuff

MBC (lessizmore )
Thanks for the promo,appreciate it!Like the A side very much an will surely rock than in my sets!

Gideon (Lessizmore,Grayrea,Anticlub):Great housy traks!! I Love it!I like both the ""De Bellevill"" mixes.Nice chordy groove tracks.

The Selph (Apnea, Grey Area, Thisorder):Both ""De Belleville"" are great! Thumbs up for this new label!

Santorini ( Recycle rec, Glueckskind Schallplatten,Upon You Records,Mina rec,Ocean dark):la vie en rose original - fresh deep old school track, I'll play it,de belleville ragga fonda deep remix - perfect groove, dario's groove is well made, as ever! Another strike for exprezoo!

MASSI DL (Trapez,Frankie rec, Soma, Wordless):pure classic house feeling with quike!la vie en rose is really good and will rock for sure the sunny dancefloors of this summer, and padice's remix gives that deep vibe wich i like!

Hidenobu Ito (Mosaiko Ltd, MO's Ferry, we are):Great housy traks!! I Love it!

Lorenzo Chiabotti (Resopal - exprezoo -deep dabaudian):I like the Ragga Fonda's remix very chicago style rhythm and also the ambient that has re-created these relase is produced very good and current.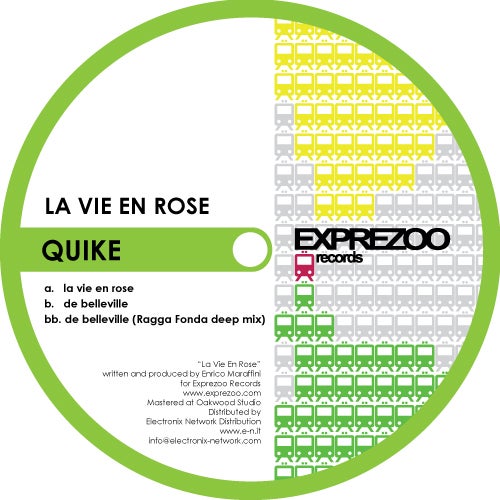 Release
La Vie En Rose
Release Date

2009-07-16

Label

Exprezoo

Catalog

EXPV002