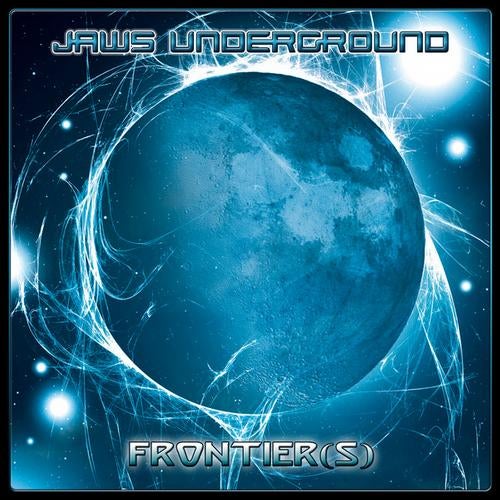 Release Date

2012-06-19

Label

Geomagnetic

Catalog

GEOCD076
Jaws Undergound - Frontier(s) - geocd076 (Geomagnetic.tv / Morning Star)
http://www.psyshop.com/shop/CDs/geo/geo1cd076.html <- Buy Here Now
http://geomagnetic.tv/news/geocd076/ <- Full Previews
http://www.facebook.com/Geomagnetic <- Fan page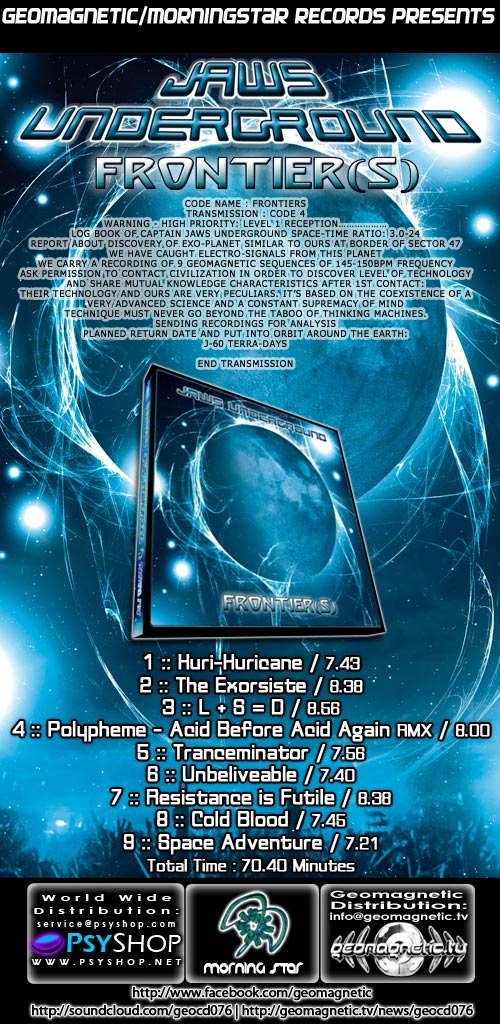 Title: Frontier(s)
Artist: Jaws Undergound
Label: Geomagnetic.tv/Morning Star
Catalogue: GEOCD076
Format: 2-Panel JewelCase Audio CD
Barcode: 881034889744
Release: April 2012
TRACK LIST
01- Jaws Underground - Huri-huricane
02- Jaws Underground - The Exorciste
03- Jaws Underground - L+S=D
04- Polypheme - Acid Before Acid Again (Jaws Underground Remix)
05- Jaws Underground - Tranceminator
06- Jaws Underground - Unbelieveable
07- Jaws Underground - Resistance Is Futile
08- Jaws Underground - Cold Blood
09- Jaws Underground - Space Adventure
RELEASE NOTES
Code name : Frontiers Transmission : Code 4 Warning - High priority: Level 1 Reception...... Log book of Captain Jaws Underground Space-time ratio: 3.0-24 Report about discovery of exo-planet similar to ours at border of sector 47 We have caught electro-signals from this planet We carry a recording of 9 geomagnetic sequences of 145-150BPM frequency Ask permission to contact civilization in order to discover level of technology and share mutual knowledge Characteristics after 1st contact: Their technology and ours are very peculiars. It's based on the coexistence of a very advanced science and a constant supremacy of mind Technique must never go beyond the taboo of thinking machines. Sending recordings for analysis Planned return date and put into orbit around the earth: J-60 Terra-days End transmission
Label Profile:
Morningstar is a subdivision of Geomagnetic Records. Uplifting, melodic, full-on, progressive and perfect for those ecstatic moments of sunshine and awakening, the Morningstar label knows you want to be carried on a cloud of feel-good grooviness as you welcome the morning light! www.myspace.com/geomagnetic
www.facebook.com/geomagnetic
Geomagnetic.tv was established in the summer of 2001. Their first major international release is the legendary DVD project "MAGNUS" geodvd001. Since then the label has grown into a full fledged major electronic music and media label. Based in San Francisco and focusing mostly on music and visual related projects, you can expect to see lots more cutting edge releases on the way from this award winning crew! Geomagnetic.tv was started by Spook one of the founders of the prominent San Francisco 3D FX and Multimedia boutique known as Minds Eye Media (est.1995). www.mindseyemedia.com
CREDITS
Distribution: Psyshop.com / Ingrooves
C Geomagnetic.tv / Morningstar Rec
http://geomagnetic.tv/news/geocd076
info@geomagnetic.tv mp3 Samples online.
http://www.psyshop.com/shop/CDs/geo/geo1cd076.html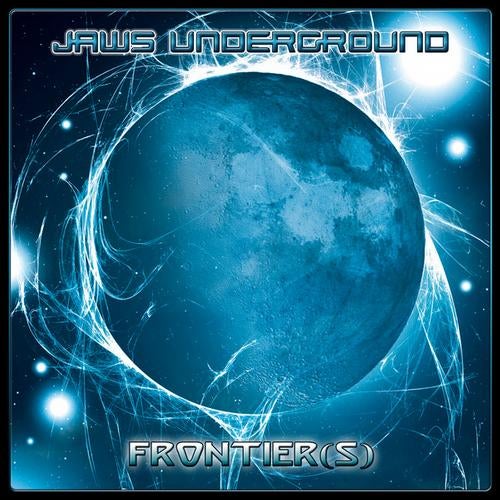 Release
Frontier(s)
Release Date

2012-06-19

Label

Geomagnetic

Catalog

GEOCD076