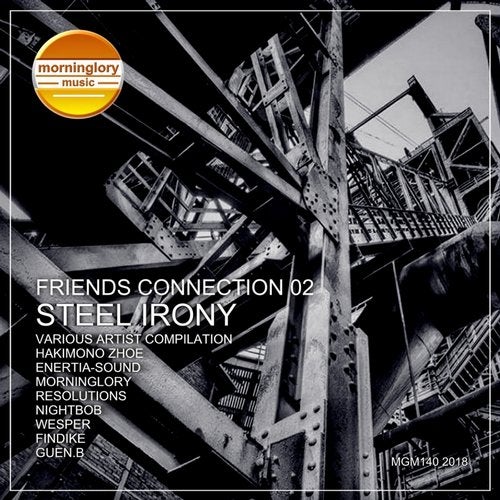 Hype
FRIENDS CONNECTION 02 COMPILATION - STEEL IRONY

We are very happy to release our second Friend Connection compilation album called Steel Irony. Eight producers has delivered a fine collection of tracks, referring to metallic themes and sounds.

Nightbob kicks off with the title song Steel Irony. Pure progressive and a bit tech house track, lots of metallic elements, stabs and effects. Easy listening and melodic, but still uptempo, a wonderful track.

A really nice contribution by Hakimono Zhoe is Trommelvlies. A bit different as we are used from this productive artist, but very distinguished and mysterious. Dark basslines, lovely percussive and metallic tunes. Great set-starter or anywhere in your afterparty performances, suits in many styles.

Morninglory surprises with Mixed Xylene. This stuff you don't want to touch in real life, this track however is timeless and you can't get enough of it. Dark drums and percs, nice vocals and atmospheres and an amazing break.

Steel Construction made by the guys of Resolutions amazes us due its morphed metallic percussive shots and stabs, dressed up with beautiful progressive melodics. Filtered trumpets, pads and vocals, it's all there.

Multi-talent Enertia-Sound delivered Radium Driver. Very well balanced track, we love the mix of styles. It is uplifting, rhythmic and inspirational. The vocals are really nice chosen, as well as the psychedelic sound effects and pads.

Guen.B came up with the track Gallium Valley. The atmospheres are dark and spooky and, of course, with metallic effects. Another great track by Guen, who demonstrates it's possible to use several styles in one track. From deep till tech, you name it if you dare!

We are used to receive excellent work by Findike, so is Dark Factories. This enthusiastic and talented artist took the challenge of creating a track for this sampler immediately. And we are happy he did! Progressive as it should be, it's art.

Wesper takes us to another level with Recycle Style Freeland. Amazing set-starter due its spheric intro en low-tempo bpm. Building up to a minimalistic and dark track, repetitive weird vocals and effects, you'll love it!

Enjoy our second sampler!

Special thanks to Nightbob and NB Mastering for the artwork design and mastering services. Also many thanks to Jaap van der Toorn for providing the artwork picture and for inspiring us to create this metallic sounding album!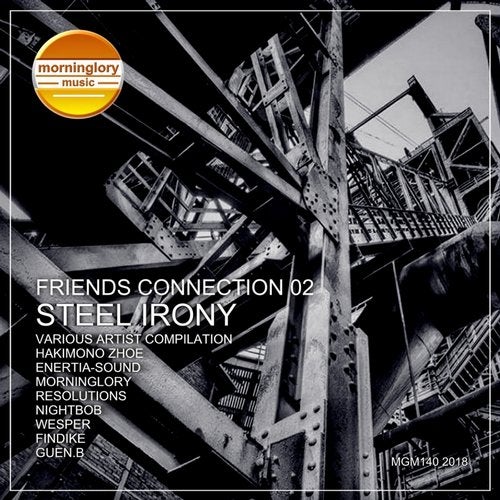 Hype
Release
Friends Connection, Vol. 2 Steel Irony