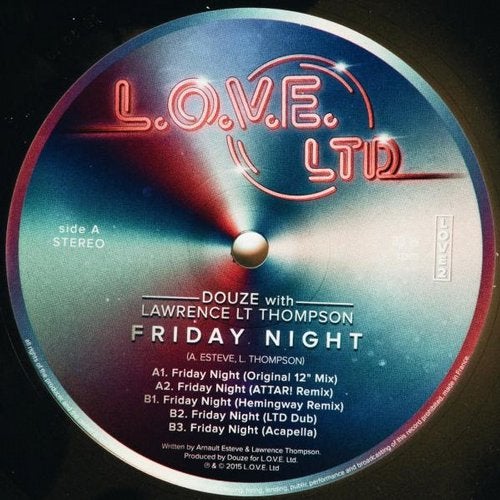 L.O.V.E. LTD is back with its second release by label chief, Douze.

After two years of intense remix work, Douze is back in the originals game, teaming up with Lawrence LT Thompson, the shining star vocalist of Stars On 33. With thumping bass grooves, deep resounding vocals and illuminous synth licks, "Friday Night" is a sincere ode to classic disco, reminiscent of Studio 54, Salsoul Records, Paradise Garage and many other boogie references.

On the remix duty, Belgian producer ATTAR! kicks things off with his brooding and haunting spectacle of the original. Toronto-based Hemingway puts his hands to work on a gorgeous piece of authentic funk that culminates into the love child of Prince & Herbie Hancock . The enigmatic Ltd closes the package by paying tribute to Chicago House with a jam that breathes, tastes, smells and sounds like 1988.


L.O.V.E LTD (pronounced [l][o][v][e]) is Douze's home-grown label. Best known for his collaborations with long time collaborator Kris Menace and unreleased productions with Alan Braxe; with EPs on Discotexas & Animal Language and remixes for the likes of Robin Thicke, Sally Shapiro and Holly Johnson - the Parisian producer decided it was time to bring his vision of music out there.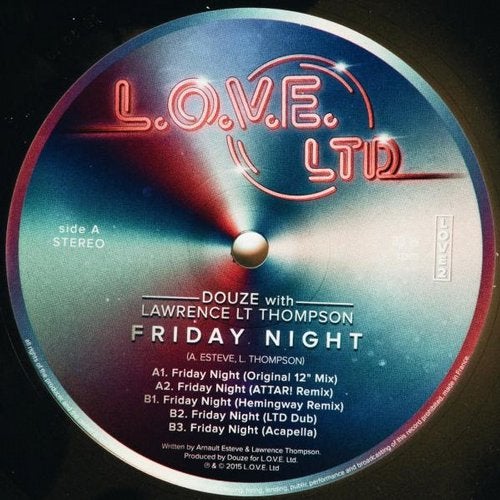 Release
Friday Night