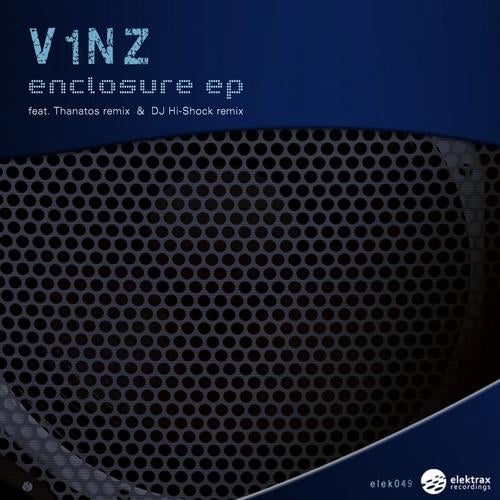 DJs/Producers, and dark techno enthusiasts Vincent Capuano (V1NZ), Alessandro Vibees (Thanatos) and Elektrax Recordings label boss, DJ Hi-Shock, had one thing in mind when coming up with material for the Enclosure EP.Dark proper techno with substantial boom for the dance-floor and some seriously detailed sound sculpting; sure to keep listeners anticipating what will come next!

These tracks are already being supported by DJs including the likes of: Dylan Drazen (USA), Daz Furey (Argentina, UK), DJ Deh (Italy), A.Paul (Portugal), Roman Zawodny (USA) and Commander Tom (Germany). Enclosure EP aims to pull listeners into a complex maze of emotion fueled grooves, proper minimal-istic percussion, and face numbing bass; resulting in a unique package of techno in its darkest form! With over 45 minutes of serious sound on the table here; this one is not to be missed!

Enclosure - n. a structure consisting of an area that has been enclosed for some purpose.
What is this structure? What is this purpose? Well it depends on the enclosure one is relating to. In this case we are locked up in a space void of familiarities. Odd
and down right eerie textures are threaded with sharp shuffling percussion. Utter darkness rides atop a deep pulsing kick drum; sure to knock cocktails over; in the far corners of many a disco-tech. Over seven minutes of deep mood/mind altering techno, this is one bang1n cut!

Absolution - n. The act of setting one free, by releasing or discharging (from obligations, debts, responsibility etc.); by giving forgiveness for a penalty, blame, sin or guilt.
V1NZ carefully layers dark textures of sonic emotion with a generous offering of crisp, proper percussive polyrhythms. A real growler of a bass-line tamely rides the booming kick; pleading for clubbers to get out and groove in the heat of the night. This track leads us on a dark journey towards repentance, ending on a high? Or a low;? This is yet to be determined. There is ONE way to bear witness and tray and comprehend what happens along the way. You'll just have to listen to understand.

Apryl
Apryl provides a wonderfully prolonged (over 9 minutes!!!) piece of proper techno straight from the heart, mind, and soul of V1NZ. A twisted metallic and almost melting pipe-like bell-esque lead dips in and out as the track progresses. Hi quality synth stabs and lush chords help this track shine with detailed intricacy. When paired with the crystal clear, yet knock-your -shades-off-your-head kick/bass combo things really come together. There is a dynamic sense of progression in the track and if listening closely one can almost sense the shifts in emotion broken by hi energy drops and several sophisticated interludes. Apryl truly is a lovely portrayal of the parallel existence of the artistic mind and the emotions by which it is guided. This one is massive.

Apryl (Thanatos remix)
Thanatos really nails dark techno head on with his remix of Apryl. The track is slower than the original mix; yet itt provides such a well crafted kick/bass/reverb combination; that it actually maintains the bang and boom that many tracks simply lack; regardless of the BPM used in production. This one really contains it all. Simple as that. Proper percussion and sub-harmonic boom all topped with a layer of dark mid-range ambience; this one goes down well when paired with a dark club, massive speakers, and flashing lights. Alessandro really brings out the beauty of the original mix of "Apryl" offering up some true aural bliss in the form of pure unadulterated techno.

Apryl (DJ Hi-Shock remix)
DJ Hi-Shocks's remix of "Apryl" is packed to the brim with emotion and power. This track carries much punch, yet comes forth with such a warm organic feeling, it is listening treasure. Loaded with proper percussion, this cut displays yet another absolutely amazing job with EQ and reverb sculpting by Simon. This remix totally captures all of the intentions of the original mix plus more! It is almost as if he knew what the track was about because the emotion displayed in it captures that perfectly. Sheer quality. This is beauty, this is art, this is techno!

Turncoat - one who shifts allegiance from one loyalty or ideal to another, betraying or deserting an original cause by switching to the opposing side or party.
This cut first appeared on the "Seriously Techno" compilation, a collection of hard techno grooves released by Elektrax Recordings last month. Indeed it is a seriously bangin track, drenched with various bits of aural flavour; reminiscent of dark warehouse parties back in the late 1990s In New York City. Turncoat gives us dark mechanically melodic synth parts, effects laden patches, and complex rhythms set to prey upon the dancefloor. Seriously, check it out!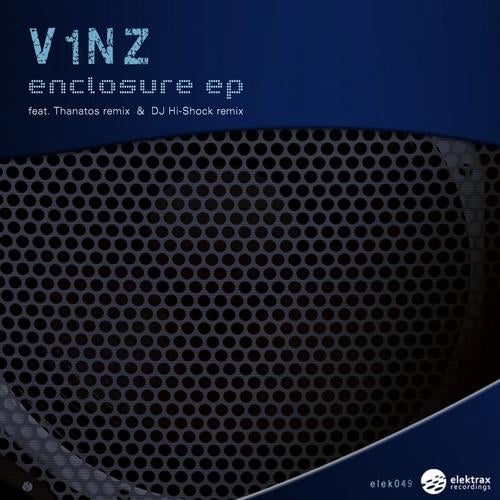 Release
Enclosure EP