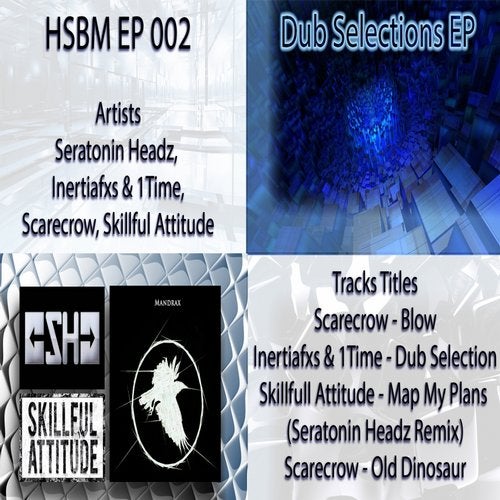 Dub Selections EP is a 4 track Dubstep smasher!

Seratonin Headz remix - Map My Plans
Hip Hop crew "Skillful Attitude" Seratonin Headz went in with this one! Hard Bass Stabs and bassline patterns that consist of a unique bass morphing technique a very clever trick within music production sees this to be a banger within minimal dub. The chorus brings in a hard concept of being a man of his a word a man that deals with the matter accordingly. "Born That Way"

Inertiafxs & 1Time - Dub Selection
A reggae influenced dub track that will get the clubbers bouncing, this piece will have you either nodding hard or brocking out to its swaying groove and acid style bass stabs... "Call for the rewind" on this one!

Scarecrow - Blow
Scarecrow, this artist is one of our favorite artists he has a unique musical style about him, This track Blow, a drug related track with Cheech and Chong samples will definitely "Blow" your head off with amazing dark stabbing resonating bass, a pattern that is staggered and will have the clubbers shouting for more.

The second track from Scarecrow - Old Dinosaur"
Comes with an oldskool reggae vibe, one for the bubblers with its "slow jam" groove and eerie pads/FX the bass stabs are the typical Scarecrow sound, similar to the Dub Crimes EP "Purple Ohm" will sit just fine whether chilling or on the dance floor.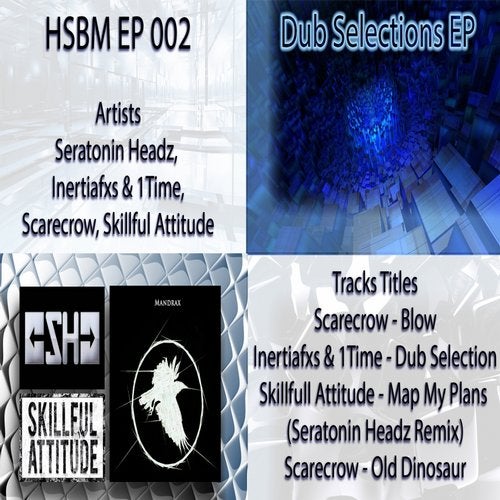 Release
Dub Selections EP