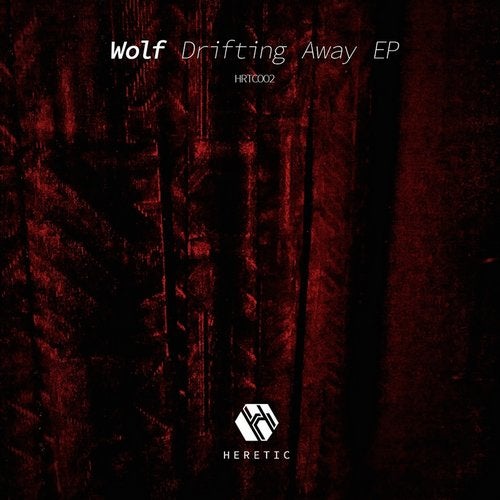 Release Date

2015-01-26

Label

Heretic

Catalog

HRTC002
Carlos Juarez AKA Wolf, is a relatively unknown artist to most but that's something that can't be said about his Montreal based record label Infinite Machine.

He delivers his first EP 'Drifting Away' via HERETIC, consisting of two heavyweight original tracks aimed directly at the darkest dancefloors, backed with impressive remixes from Infinite Machine affiliates Beaka, Cloaka, Wallwork & RZR VS LTD Colours.

Additional to Heretic's opening debut with their Compilation: 001 just at the tail end of 2014, this EP really sets the standard of what Heretic stands for. Wolf sets the bar high but is equally matched with the carefully selected remixes. A stunning debut for any producer.

"No Love" starts proceedings with an eerie pad accompanied by percussion cautiously hinting at what is to come next; Wolf unleashes a tough broken beat weighted down by a ferocious bassline. This is definitely one for the steppers.

With the help of fellow producer Liar "The Truth" takes things further, a truly menacing bassline growls throughout like a caged Wolf. Teamed with chopped up breakbeats and dub sirens more reminiscent of those found in the Jungle tracks from yesteryear, this track shows that Wolf certainly means business.

When it comes to remixes, first to step up is HERETIC boss Cloaka. He turns his hand to "The Truth" moulding the original into a proto post-apocalyptic horror film soundtrack with synths and a bassline straight out of space. Next up Beaka transforms "No Love" by adding some serious swing and addictive chord stabs. Finally Wallwork & RZR team up with LTD Colours for a no holds barred exploration into the sounds of Jungle within a 130bpm framework.