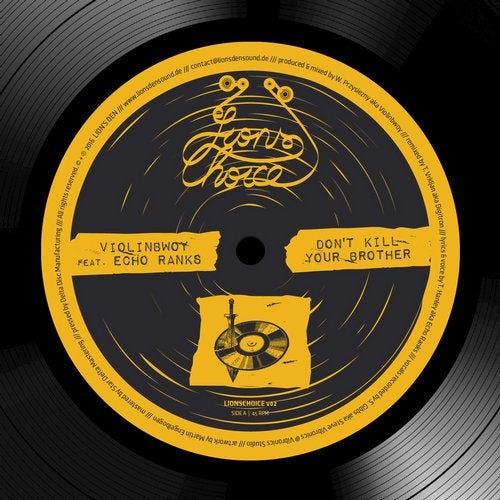 Release Date

2016-09-05

Label

Lion's Den

Catalog

LIONSCHOICEV02
Violinbwoy feat. Echo Ranks - Don't Kill Your Brother [LIONSCHOICEV02]

A1 // Violinbwoy feat. Echo Ranks - Don't Kill Your Brother
A2 // Violinbwoy - Don't Kill Your Dub

B1 // Echo Ranks - Don't Kill Nobody, Please [Digitron Remix]
B2 // Don't Kill Dub! [Digitron Remix]

LION'S DEN /// www.lionsdensound.de /// produced & mixed by W. Przysiezny aka Violinbwoy /// remixed by T. Vrkljan aka Digitron /// lyrics & voice by T. Hanley aka Echo Ranks /// vocals recorded by S. Gibbs aka Steve Vibronics @ Vibronics Studio /// artwork by martinengelbogen.com /// mastered by Star Delta Mastering /// pressed by Delta Disc Manufacturing /// All rights reserved. C + ? 2016 Lion's Den

12" / 45RPM / 4 Track EP / 180g / 500pcs. limited & hand-numbered
&
DIGIKALLY (MP3 / WAV / etc.)

This series reveals some unique compositions on three different 12inch discs to take you on an extraordinary journey - a more than three year collaborative work with our good friend and musical mastermind Violinbwoy finally ready fi all sound systems around the globe. Again a path from version over version to a next version - dubwise all the way. nuff tuff riddims, mixes, dubz and vocals were sent back and forth between Poland, Germany, France, Croatia and the UK, with some nice encounters on stage, in the studio, on tour or somewhere in between.

"I Man Be Free" comes with two great righteous voices from Berlin, Saralene and Kali Green, chanting for freedom and unity. A real wake up call for all bredrin and sistren. A stepping riddim to make the bass rumble wherever this anthem reach. and it has already reached some dances around Europe with support by some big names in the scene...
Of course it contains a heavyweight dub and a 'part 2 style' extra raw and ruff version. Violinbwoy displaying some of his versatility in the arena of dubwise.
Flipping the disc reveals a very special gem: An almost classical piece, a lovely piano, accompanying Kali Green singing about "Whole Heap A Trouble" in the world - still forward on the positive vibeZ. Music across any kind of genre border that goes under one's skin and makes one tremble under the power of vibrations.

"Don't Kill Your Brother" is a tune very much needed in those times of political turmoil and warfare. Echo Ranks from Leicester, UK, calling upon his I-dren to stop the senseless killing. A message of peace for the youths of today. In this instance with a ruff remix by the 'Balkan Dub Defenders' Digitron from Zagreb, Croatia - electronic madness style. Each side with a 'part 2' dub mix in full effect.

The third vinyl is "Too Hot Fi Dem" - pure fire, again with Kali Green outta the Lion's Den on the vocals - strictly message music for the people. Pierced with another special remix version of "Don't Kill Your Brother" by Echo Ranks on the flipside - this time hailing from Paris, France, with none other than the mighty Bredrin Records on the mix to mek yu jump and twist. again both sides with powerful dubwise versions. nah compromise.

All dubs were transferred to 1/2inch Tape for extra analogue warmth, mastered with care and pressed on high quality 180g vinyl by Star Delta / Delta Disc, UK. It is also digitally available.
Conscious music fooooorward.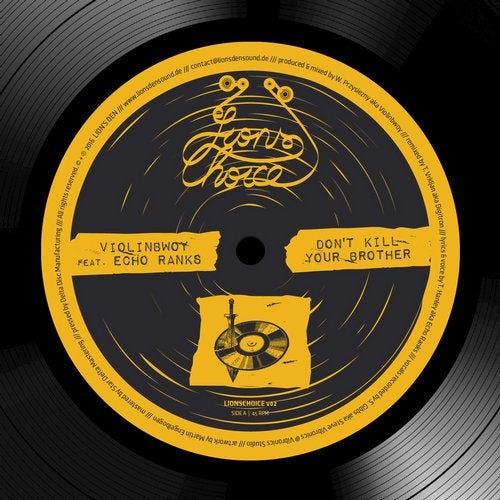 Release
Don't Kill Your Brother
Release Date

2016-09-05

Label

Lion's Den

Catalog

LIONSCHOICEV02