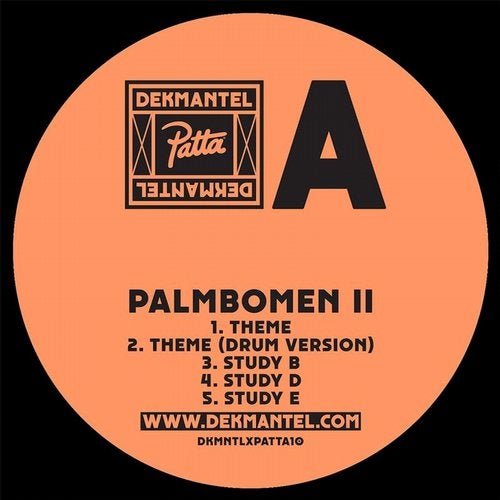 Release Date

2018-11-05

Label

Dekmantel

Catalog

DKMNTLPATTA10
Enter the cinematic universe of Palmbomen II, The Dutch protagonist of lo-fi, synth ambience, hooked on 90s nostalgia and retrofitted synthesisers and drum modules, delves deep into a colourful world of one par acid house, one par abstract electronic score. A reflective, and yet warped series of analogue themes, like previous iterations of his work, could easily play backing to a gritty TV show from thirty years ago. Having just released the Center Parcs LP on Dekmantel with production cohost Betonkust - an opus of psychedelic tape fuzz, and outsider house, Palmbomen II's latest outing expands on this experimental theme, with added melancholy, and a little bit of playful raviness.

The EP is built around its starting track 'Theme', a headlong narration of beatless, acid-synth textures, and alien melodies. A humbling warm intro into the world of Palmbomen, a.k.a. Kai Hugo, and his idiosyncratic approach to analogue-composition. 'Theme (Drum Version)' takes this beautiful score and turns it into a full-on, acid-house, rave-cut, replete for the techno heads, and Detroit freaks alike. Virtuous in its drum machine rhythms, Roland kicks and acid tweaks, the Drum Version is a throwback, 120 bpm house-jam of the highest Palmbomen-standard. The following tracks on the EP explore the Dutchman's fuzzy, nostalgic, synth-fetishism. 'Study B' could easily be an out-take from a great Autechre record. 'Study D' is a darker trip into horror territory with darker overtones, and haunted textures, while 'Study E' sits as playful jam with Warp Record like attributes.

Palmbomen II is is the electronic-focused, alter-ego of Palmbomen. With several LPs to his name, varying between instrumental disco, and orchestral synth scoring, Kai Hugo now lives in Los Angeles making music full time. He'll return to Europe in the summer to play the Dekmantel Festival in Amsterdam. Palmbomen is Dutch for 'palm trees'.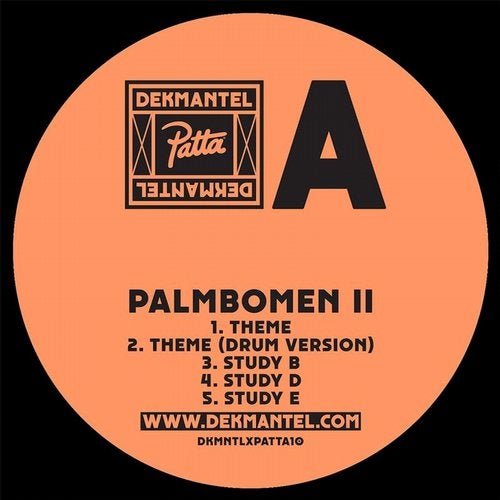 Release
DKMNTL X PATTA 10
Release Date

2018-11-05

Label

Dekmantel

Catalog

DKMNTLPATTA10