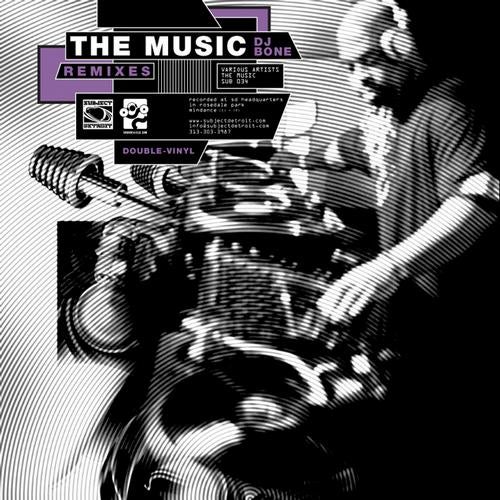 Exclusive
DJ Bone (remixes by: DJ Bone, Trench, Samuel L. Session, DJ 3000, Rennie Foster, Santiago Salazar, Aaron-Carl, Stephen

A1. DJ Bone Remix
The man behind the message, DJ Bone takes control, twisting some incredible sounds from his machines, transforming his vision into a hypnotic futuristic masterpiece. From the outset a raw heavy kick-drum, claps, snares, and hats command you to dance while cosmic bleeps and strings simultaneously transport you into deep-space. Carnally engaging through its jacking rhythm yet at the same time cerebrally seductive with its robot dreamscape. This is the sound of the future, today, on the dance floor, revolving through your mind, speaking to the soul. This is Detroit, this is techno, this is the underground, this is innovation, this is the REAL shit!

A2. Trench Still Here and Buckwild Remix
The invasion has begun! The long-feared invasion of intergalactic robots has begun. However, they have brought some great music with them and this is one of their best. The only way of describing Trenchs sci-fi inspired cut is hi-tech funk in its purest rawest, driving, and futuristic form that builds upon the legacy of Mills and Hood. Pervasive rhythmic bleeps, complex hats and echoed and panned claps drive this track while Trenchs loops and pitch shifts two words from Bones speech: GET FUNKY. If Asimov made techno this is quite possibly what it would sound like. Incredible techno that conjures up images of apocalyptic strife and desolation but at the same time suggests evolution, innovation, and the sense of a realm without boundaries.

B1. Samuel L. Session Remix
The sounds of the past and the sounds of today, the sound of Sweden and the sound of Detroit collide to form an elegant remix that digs into the roots of techno drawing you into its funky, evolving groove. A booming kick is submerged beneath a groovy Reese bassline while a simple yet effective closed-hat, cymbal, and clap rhythm carry classic deep chords that lend Bones vocal a smoldering vibe. Warm rolling techno with a nomadic essence and classical sensibilities that references the essence of early house music whilst placing it in an exciting new context and as a result will work equally as well in many different settings.

B2. DJ 3000 Motech Remix (edit)
DJ 3000 brings us once again on a unique journey through high-tech funk combining the electronic soul of his native city Detroit with the Balkan rhythms of his Albanian heritage. A funky electronic bassline, uplifting synth tones, bass guitar licks, and clever use of Bones vocal creates a mesmerizing textured sonic fabric that keeps pushing forward with expertly timed drops and rewinds.

C1. Rennie Foster - No Lights, No Fights Remix
Blending the melancholy spirit of Detroit Hi-tech Soul with influences that stem from decades of involvement with music on different levels, Rennie creates a hypnotic tech-funk monster. With Rennies cyclical use of Bones I remember when we used to dance. To the music. No lights no fights. Just soul vocal refrain, echoes of the underground spirit of Fluid, the club where he was resident from the early to mid 90s, can be heard. This is subtle electronic poetry that references the past whilst forwards looking to a return to the spirit of electronic soul that, in fact, never went away.

C2. Santiago Salazar Seldom Seen Remix (edit)
Santiagos take on Bones classic Music speech is another that ignores the bogus boundaries which have been imposed on slightly divergent forms of electronic music which all emanate from the same feeling; The Love for the MUSIC, for DANCING, and for the SOUL which they embody and express. So instead of divergent the word adaptation is one that better conveys the direction in which Santiago takes his remix. Alternatively dark or uplifting, this slice of Electric Soul moves to its own 909 driven electro beat with a funky swagger. Soaring strings, radiant melodies, and a 303 acid line that rises, falls, and morphs, offer a chance for old-school reflection in their almost dream-like composition. However, this is not just another nostalgia trip. This not a pre-packaged, watered down gimmick. What Santiago creates is a spell-binding, modern expression of the spirit of innovation, survival, and rebirth that characterizes Detroit, its people, and its soul.

D1. Aaron-Carl Remix
First up to the plate to get the machines funkin and grooving is the man behind the Warmth Sessions and Wallshaker Music, Aaron Carl. What happened to the Music? I remember when we used to dance. THE MUSIC IS BACK! Downright sexy, funky, and soulful house music at its best! Rocking beats and deep organs meld perfectly to Bones vocal with intermittent bursts of epic strings that lift you up before dropping you right back into the groove.

D2. Stephen Brown Just Soul Remix (edit)
The Scottish deep-techno master takes to the stage with a dreamy and evocative edit. In line with the title SB focuses on Bones all soul, just soul vocal line under laid by a deep kick, rolling sub-bass, a quirky closed-hat pattern and a repetitive organ riff that just locks you in for the duration. The result is a cut that is far more than the sum of its parts. Pure house music with a classic late-night techno atmosphere that glows like a beacon in the amidst a sea of so-called minimal tech-house rubbish that seems to be this years zombified exhumation of the carcass of last years equally rubbish take on minimal techno. Do yourself a favor and forget that soul-less rubbish, buy this instead, turn the lights off, put this on, play it loud, and dance.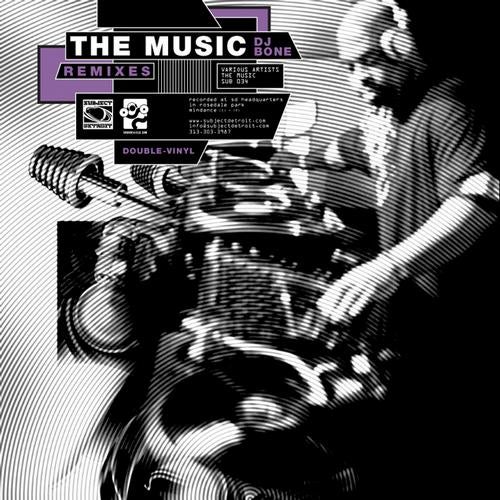 Exclusive
Release
DJ BONE THE MUSIC Remixes