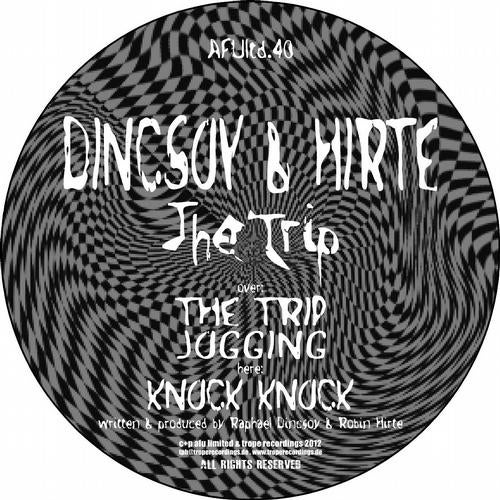 Release Date

2012-05-20

Label

AFU Limited

Catalog

AFULTD40
The new release on AFU is coming straight out from Stuttgart. 'The Trip' is the first strike by the collaboration of Raphael Dincsoy and Robin Hirte. The connection of these guys is very young and fresh, but they felt really fast that they have a quite similar perception of modern techno music. Even the lead track The Trip was the first track they ever produced together. This track was produced during their very first studio session. After that, it was clear that they have to create more becuae it definitely felt right. Raphael Dincsoy is more known as promoter and booker of Stuttgart`s Lehmann Club or as chief editor of the Partysan Magazine. In the past he did also some digital Eps and Remixes on labels like Kaufe Musik, Sickness or Fassade Records. Robin Hirte in contrast is an 'old stager' in the techno and producing business. He is running his own vinyl label 'Truth Tracks' and 'DasOhr'. Currently he has some big artists on his labels like Dj Rush, Tommy DeClerque, Niereich and many more.
With their debut on AFU, Dincsoy & Hirte presenting a three track EP. The Trip as the opener is a dark, rollin` and heavy bass techno track. Combined with the mystical and spooky vocals they create a very hypnotical atmosphere. At least after the break you will see the dance floor peoples hands in the air... 'Knock! Knock' is a bit similar in the mood with a kind of more roughness. Maybe a bit more rave like. A pumpin` and very oppressive bassline is blowing the groove on. 'Jogging' on the other hand is the most groovy track. It is nearly tech house but with a totally individual note. Not the typical happiness vibe, but rather a bit angry in the mood. The groove is milling on from the first second directly to the feed and the brian. All three tracks are 100%% peak time and dancefloor oriented sound. Definitely a well done debut by Raphael Dincsoy & Robin Hirte.

support & feedback:

Adam Beyer : been playing knock knock several times and it rocks!
Dub Dummies: Sounds BIG! Really cool thanks!
Franco Bianco: HUGE release! Thanks for the music! :)
Stephan Bodzin: knockknock!
Paco Osuna: downloaded thank you :)
Jesper Dahlback: big choons! big party!
Lars Wickinger: Nice! Rockt den Floor!
Dr. Motte: great tunes, will play "the trip" 4 sure! - download by Dr. Motte for PRAXXIZbooking.com (plz send wavs to play in my sets, thx)
Misstress Barbara: Really like The Trip and Knock Knock. Top one for me is Knock Knock
Nicolas Cuer: fantastic techno progressiv, mega support from Nicolas Cuer
Lowkey: The trip is for me , sounds like a bomb !!!! thx !!!
Cari Lekebusch: haha geil mann! die sind böööse also werde ich loslassen so bald wie möglich dublin am freitag perfect! gutgemacht alter schwede! *Cbusch!
Joel Mull: Great Functional Tracks!! Full Support!! :) Super Release Rapha! Will play Trip and Knock Knock!! :)
Gayle San: Just wanna say ..I´m loving ur AFU Limited release ..a great selelction of tracks n my favorite The Trip & Knock Knock !!Really driving n pumpy tunes. In my playlist !!:)Will be banging them out this weekend!!
Sven Wittekind : die B1 is cool !! ...danke dir!
Steffen Herb (rekids) : 'the trip" works perfect for me!deep rolling hypno techno! will play for sure!thx!
George Lanham : that AFU ltd release is great mate thanks. Especially The Trip.
Holgi Star : Hab mir die Sachen grade runtergeladen und muss sagen CHAPEAU J...super EP, super Tracks, super Sache ! Und es freut mich sehr dass das mit AFU geklappt hat !
Pierre Deutschmann : jawollja.. trip & jogging ..
Heron BOAH Alteeeer! :D. A1 Und B1 sind ja mal ultraböse!. Wird fett gezockt und rausgehauen! Richtig gut, TECHNO bis der Sack platzt! FEUER!
Emerson : mir gefällt auch the trip am besten aber jogging is och cool,...lieb gruss,.....
OIiver Klein : BRETT ! GEILE TRACKS!
Alan Fitzpatrick : great work!
Niereich : Nice ep, thanks
Nicolas Duvoisin : Great techno tracks here!
Nicole Moudaber : good stuff !
Marc DePulse : some serious techno tunes! not even for my sets but very well done! JOGGING is my choice in this package.
Patrick Kunkel : the trip is rocking!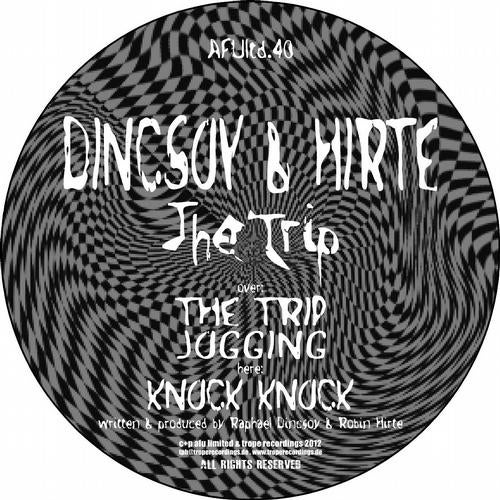 Release
Dincsoy & Hirte - The Trip
Release Date

2012-05-20

Label

AFU Limited

Catalog

AFULTD40