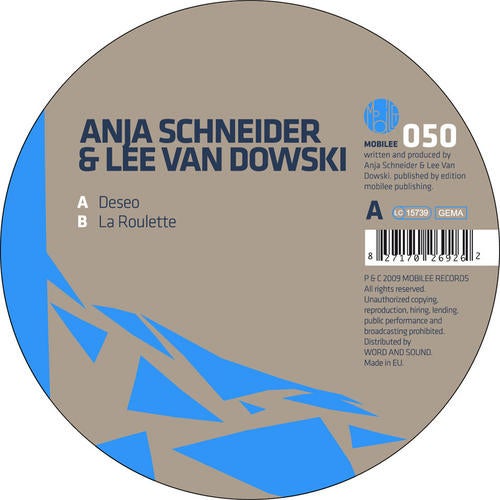 There are drums beating in the distance, and they can only mean one thing: mobilee's 50th release! Appropriately for the occasion, the Berlin label has whipped up something extra special, in the form of a collaboration between label mastermind Anja Schneider and minimalhouse
don Lee Van Dowski. As mobilee's founder and creative overseer, Anja Schneider needs no introduction, of course; Lee Van Dowski, for the uninitiated, is a major talent renowned for his unorthodox rhythms and distinctive textures, with releases for his own imprint Num Records and many others. The result is far more than the sum of its parts: two sides of straight-for-thegut grooves that succinctly sum up what mobilee is all about: getting down and getting dirty—in style.
"Deseo" begins deceptively, creeping in with an understated kick drum, demure percussive flourishes and a slow crescendo of chords, while scraps of sampled vocals lend a warming touch. But don't touch the volume dial just yet, because things are about to get heavy. With the gentlest touch, Anja and Lee open the filters and ease into the bass register, and before you
know it, you're in deep. "Deseo" is Spanish for desire, and the track lives up to its title, burning hotter with every bar. Sensual and hypnotic, the groove builds tension with the spine-tingling surety of a fingertip tracing the nape of your neck. And when the release finally comes, it lights
you up like a house on fire, with the wordless vocal refrain answered by soulful exclamations and outbursts, all chopped up and made deliciously strange. A little bit tribal and unabashedly deep, this isn't diva house, it's vida house—the kind of track that makes you feel alive, awake
and alight with energy.
"La Roulette" plots a different course, opening with underwater warble and sonar pings that hark back to the classic minimal techno of mobilee's very earliest releases. Again, there are
surprises in store: first in the form of skuzzy, syncopated chords that push your hips into motion, and then, a full three minutes in, with another dose of wordless vocals—deep, husky and
suggestive, reminiscent of classic Chicago house at its most lascivious. As with "Deseo," the vox has been chopped beyond recognition—but, transcending language, its meaning is crystal clear: guttural and dead funky, it's an undeniable invocation to get in touch with one's inner freak. Everyone wins with this spinning wheel.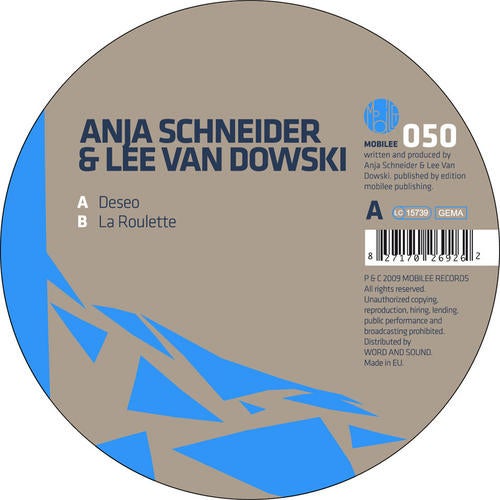 Release
Deseo