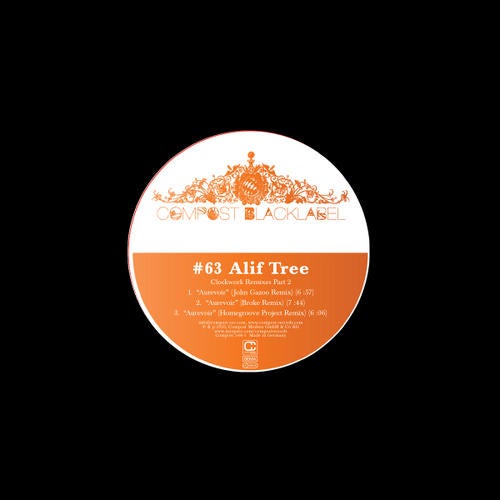 Release Date

2010-02-05

Label

Compost

Catalog

CPT3483
February 2009 Alif Tree´s second album Clockwork is out, gaining worldwide respect and good quotes. Here is the second remix EP containing the three winner reworks of the Aurevoir- remix contest. John Gazoo, Broke and the Homegroove Project could assert themselves against more than 250 competitors, a tough decision!

As a new force on the scene, Düsseldorfer John Gazoo has never as such sought after the stage, or critical recognition. His solo project combines many different musical facets, which stand out and hit heavy, with a versatile concept that is constantly being expanded and refined.
His productions reflect year round musical curiosity, experience and fresh experimen-tation, through which his daily musical perception is formed.
As a graduate Modernist (Mods- English youth culture,) his roots lie in Jazz and Soul; a musical style that is likewise multi-facetted, and the foundation of all his ideas to come, back when John was very young.
When Gilles Peterson once staged an all-nighter in London, John, driven by Jazz Fever, packed a bag, pulled the Vespa out of the garage, and embarked on a club searching road trip an unforgettable experience of his early youth.
The later work in record shops during the 90s deepened his interest in music as a profession finding new creativity, he discovered House Music, and dedicated himself to studio work. For John, like the whole electronic music movement, Kraftwerk (who occasionally turned up next door in a Düsseldorf studio) were a huge inspiration.

Meanwhile, several years have passed, and today Gazoo doesnt get quite so carried away, as he knows exactly where he should be going. His releases on Puzzle Trax and his home based label Le Cirque, indicate precisely this musical direction.
As winner of the Compost remix contest, he easily convinced the label with his interpretation of Alif Trees Aurevoir, so that now his own first release on the renowned label will appear.

Broke are a young duo of producers and ready to hit the world of electronic music hard.
Together the brothers Fab and Till can draw from almost twenty years of band and DJ experience and are also producing their own ideas in the studio since 2009.
Their knowledge of Jazz and Classical music theory and love for the electronic club culture thereby strongly influences the typical sound of their music. That they've got their ingredients right is not just shown by positive feedback from the music industry but especially by the euphoria and dynamic caused on the dancefloor.
With their remix of Alif Tree's 'Aurevoir' Broke have their first publication ready to hit your ear. As the near future shines promisingly and creatively we can be eager to hear what BROKE produces next!

Homegroove Project's Paul Crudgington and Ian Stanford have been making music together in various forms since their school years. From playing in bands to making lo-fi electronic music with four tracks, old drum machines and samplers, their eclectic music taste and DIY ethic is what has shaped the Homegroove sound.
Today, Homegroove Project aim to make every track as and fresh and original as possible through a blend of live instrumentation, technology and modern production techniques, and allow their sound to develop naturally by not relying on formulas or sticking to specific genres.
For the past few years they have been remixing and releasing original tracks for digital labels both as Homegroove Project, and under their solo guises of Flexuous and Regulo 6, as well as DJ'ing in the Midlands and North West of England either individually or collectively, when showcasing their live improvised remix/DJ sets.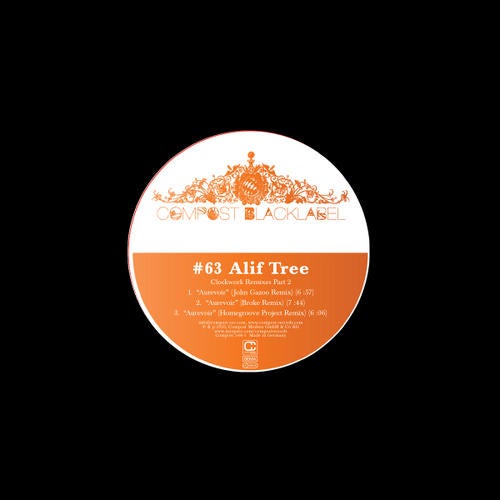 Release
Black Label #63 - Clockwork Remixes Part 2
Release Date

2010-02-05

Label

Compost

Catalog

CPT3483