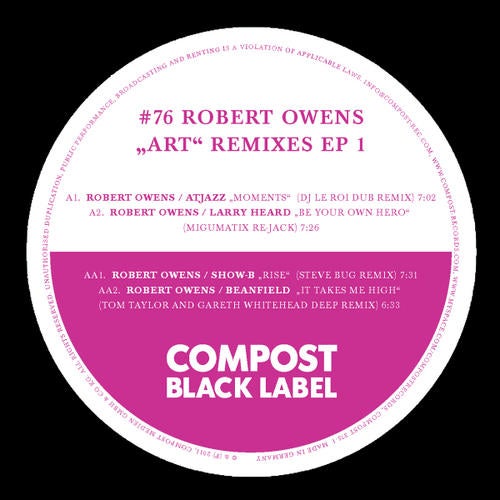 Release Date

2011-03-11

Label

Compost

Catalog

CPT3753
Supreme deep house, uplifting acid house and rise to the top tunes remixed by Steve Bug, DJ Le Roi, Migumatix, Tom Taylor (20:20 Vision) and Gareth Whitehead. It is the supreme discipline to remix the voice of house.

Dj Le Roi proved with his latest release Valdemossa EP - Compost Black Label 75, his producing skills and his ability to tie up music into a package you cant get out of your head. After his long way of releases, for example last years hit Get Deep with Roland Clark it is a pleasure for us to welcome him as a remixer on this EP.
Migumatix is one of Munichs latest top top secrets. First of all, he is a great DJ with more than one residencies in the best clubs in Munich. Beside of dozens of disco- , acid house and old school electro edits, Migumatix released the highly charted Lovejam on Freaktown in 2010.
Steve Bug is an artist to the core. Always speaking with excitement, energy and honesty about his career and his upcoming projects. Steve has somewhat morphed into a new, more relaxed and free-rolling producer. Stay tuned for some fresh new projects where barriers and expectations might be lifted once again, opening up to his pure, undying musical intuition.
Tom Taylor and Gareth Whitehead are two of the rising stars of the European techno and house scene. Successful producers, djs and label heads in their own right, the duo are now collaborating on what looks like being one of the most exciting musical partnerships in recent times. Tom Taylor and his label 2Pin Records builds on the success he found as one half of 20:20 Vision signings The Electric Press. Head of Bulletdodge Records, Gareth Whitehead is a vastly experienced producer, remixer, DJ and artist that has established his own signature brand of deep and dubby tech-house and minimal. Gareth to date has released on labels such as Safari Numerique, Parallel 125, Sleaze and his very own Bulletdodge Records.

Watch out for the next amazing chapter of Robert Owens new album Art remixes Part 2 and 3 with remixes by Kai Alce, John Gazoo, Matthias Heilbronn & Joeski, Christo (Mantis), Snuff Crew and Si-Tew.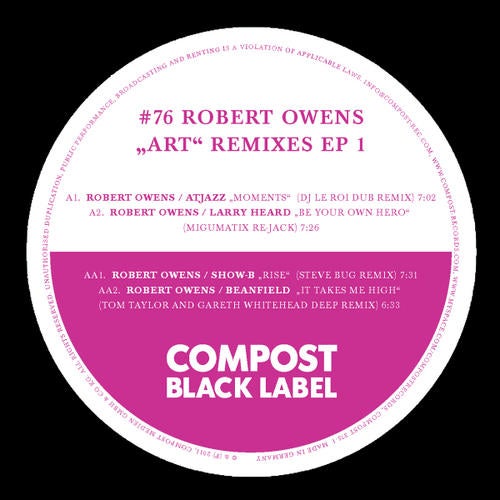 Release
Black Label 76