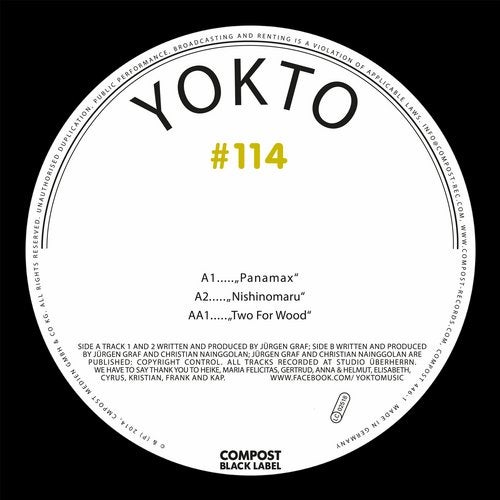 Release Date

2014-05-30

Label

Compost

Catalog

CPT4461
DJ Quotes: Ian Pooley: Nishinomaru is suuuuuupaa!!! :) // Agoria: Yuhu - very good one // Jimpster: This sounds really great. Panamax will be getting plenty of spend from me. // Laurent Garnier: Whaouuuu this is awsome. This is going to become a biiiiig one for me -- I LOVE IT // Tim Sweeney: Sounds great! Panamax is my favorite of the 3 right now. //

INFO:
With stunning drifty grooves, YOKTO kick off their debut 12 on Compost Black, a proper gem of state of the art house music! Two For Wood is already supported and charted by Kristian from Ame and Marcus Worgull!

Hello together,
we are Jurgen Graf and Christian Nainggolan.Together we are YOKTO. Both of us have a long standing interest in electronic music in general and electronic dance music in particular. The studio of YOKTO is sited in my home in the countryside close to the french border in Saarland (Germany). We meet up regularly on Fridays in order to get our tracks done and having a good time.
The geographic location of the studio has advantages for us. On the one hand, we can fully concentrate on our work and are not distracted. On the other hand, we enjoy the culinarily delicacies from our french neighbors, like wine, oil, cheese and baguette, before leaving the kitchen and going to the studio, beginning with our recording sessions.
Having a good mood in the studio is something really essential for us. The reason for this is due to the fact, that we create music using our brains, our souls and our backsides. And these organs are exactly what we want to put in resonance with our audience.
Sometimes we play music in small- and mid-sized clubs. The grass roots of our work is House Music and all its manifold derivatives. This is fundamental for our work in the studio and also for our appearence in the club. If we have the chance to present our musical vision the whole night, we are pleased to begin the night playing experimental music or ambient and then draw an arc which incorporates the various styles of House. Of course, we always have an eye on the crowd on the dancefloor in order to maximize the fun for both. It is very important for us, being state-o-the-art when it comes to our track selection, despite playing seminal tracks from the past.
By the way, Christian and I met a little earlier. This was in the year 2000 at the Plattentasche in Karlsruhe, a record store that sold vinyls. A lovely store where local DJs hang up, sharing the latest news and having one or two cups of coffee. At that time, Christian was one of the owners and throughout his work in the vinyl store and as a DJ in the clubs, he had a vast influence on the local House scene and the musical socialization for many DJs in that region. I for myself was heavily involved in my subjects at university at that time and thus spinned more or less regularly the records at self- organized parties or clubs in town. Additionally, Christian had a job as a freelancer for the ZKM. For reasons of this, we have started our musical career so late. Nowadays, we are grateful for every moment that we can spend in the studio or the club.

What can you expect from a YOKTO track: modern house with vintage attitude!.