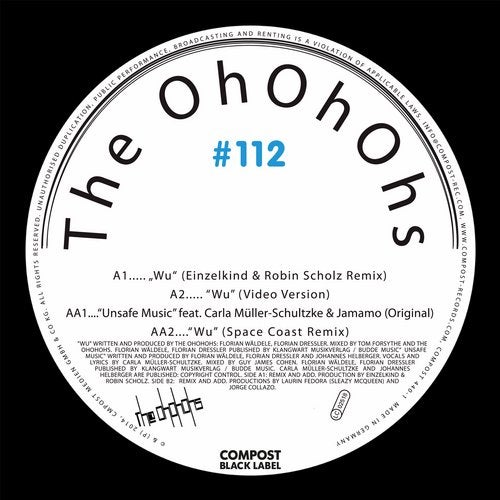 Release Date

2014-04-04

Label

Compost

Catalog

CPT4403
DJ-Quotes:
Catz `n Dogz: Wow, really cool! / Dimitri From Paris: Like the acoustic and Space Coast versions of Wu! / Claude Monnet: Nice release again, hard to select just one. / Marco Resmann (Luna City Express): Great Einzelkind & Robin Scholz remix. / Round Table Knights: I like the Space Coast Remix / Makossa : solid tracks! / Rainer Trueby: Nice one...also diggin´the Si Tew mix.... / Sascha Cawa (Katermukke): Great release! Love Wu & Kristalliner Shit / Nuno dos Santos: Really like the Space Coast remix!

Info:
Wait, wait, till the two rollover melodies emerging. An extraordinary hybrid of twisted beats and live music, and great remixes by Einzelkind, Si Tew, Space Coast. Check also the Bjork-like vocal track Unsafe Music. Terrific!

We welcome The OhOhOhs on Compost Black Label with their unique disco-driven indietronic analogue outfit. The package comes with a lush techy remix by Einzelkind & Robin Scholz, developing a wicked playfulness. Space Coast delivering an epic synth-packed disco version of the original. Si Tews remix decorates the smooth Unsafe Music with decent production skills, both percussive and bassy in an eclectic way.

A wild premier theater party kicked it all off. Using an old organ sitting at front of the theater and drums left over from a play, Flo and Flo became The OhOhOhs and asked themselves the crucial question, What do we actually want to play? After all, one Flo was a classic pianist addicted to repetition and playful melodies and the other Flo was a percussionist steeped in Afro-Cuban polyrhythm with a fondness for funk. An old Yamaha synthesizer provided the answer... Techno!

We decided to play everything live, tapping the shamanistic magic of electronic club music to drive a two-man band. Live sets are built upon layered patterns that are either backed up or broken by melodies, some stemming from classical music. The audience and the energy dictate the nature of each performance. The lengths of the tracks, breaks or bridges are not fixed. The quest for music means pursuing the happiness that repays the sweat and trouble of rehearsal; it means hunting that beautiful sequence that produces an enlightened moment; it means building up a boundless progression, and then smashing it with a harsh break. With The OhOhOhs, you can expect a wild rocking live performance, an act to make you go stark raving mad. Even techno skeptics will lose their minds. In the studio, The OhOhOhs explore opportunities that combine acoustic instruments with synths, digital sounds and voice.

The basic idea is to find spaces in the different approaches of electronic and acoustic music to flip perspectives. It can be beautiful and exhilarating playing a Bach Fugue cut into loops and combine it with a polyrhythmical conga-pattern trying to add an acoustically played delay effect while the feet begin to tap a 4/4 techno-beat... The OhOhOrchestra will come alive!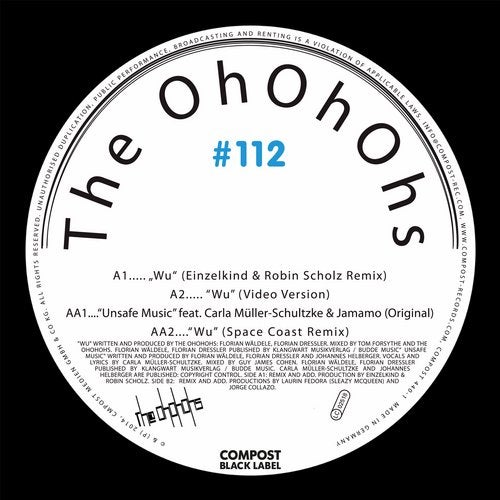 Release
Black Label 112
Release Date

2014-04-04

Label

Compost

Catalog

CPT4403