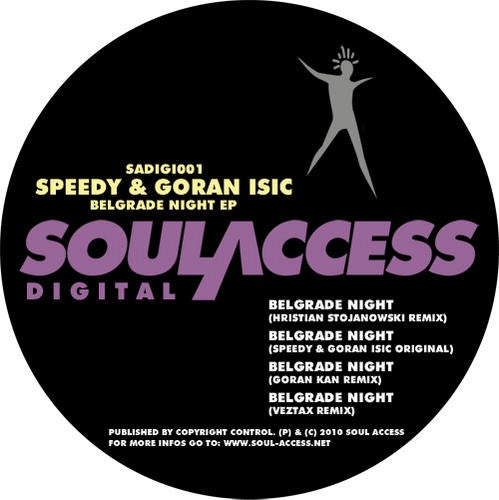 Release Date

2010-11-02

Label

Soul Access

Catalog

SADIGI001
22nd Episode of Soul Access coming from serbian artists, SPEEDY & GORAN ISIC.



Marjanovic Milorad also known as Speedy was born on June 17th 1989. in Belgrade.

Since he was twelve he was interested in electronic music. He was looking and collected legendary old-school Techno singles and play it on local parties. He was watching and listening famous djs from domestic scene, and took an idea to bought decks. Experience from Serbian clubing made new horizonts for him, improved moves, and definited his taste in pure and knowing Techno/Funky/Tribal sound. Later than, Speedy made organization called Funky Criminimalz. Primay purpose of this organization was to join Funky/Techno singles and new production of pure Minimal Techno in perfect reunion wich be included with pureness moving sound. After that, in Belgrade, Speedy starts serial of parties "Just Funky", with his friends and music partners Hristian Stojanowski and Goran Isi, where their guests was greatest musicians like Boriqua Tribez, Cave, Misjah. This serial were accompanied by many crowd with full of positive energy. In year of 2008. he starts with digital releases for couple of labels like Vezotonik, Disturbulence, Starstraxx, Techno Addicted, Unaffected, Reldz, Bk Elektroniks, Red Section...

In the middle of the 2010 Speedy founded label Lucky and his sublabel Lucky Light.

Speedy has two music "guru" masters. First of them is well known Serbian DJ and producer Dejan Milicevic and second is Goran Isic who made this original track together with him. Other three remixes on this tribal rolling EP coming from his Serbian collegue Hristian Stojanowski, then Macedonian maybe most better known dj/producer Goran Kan and Slovenian dj Veztax.



Expected support from Axel Karakasis, Spiros Kaloumenos, Cristian Varela, Bando, Dave The Drummer, Dj Murphy, Pedro Delgardo, Stephane Signore, Carl Falk, etc..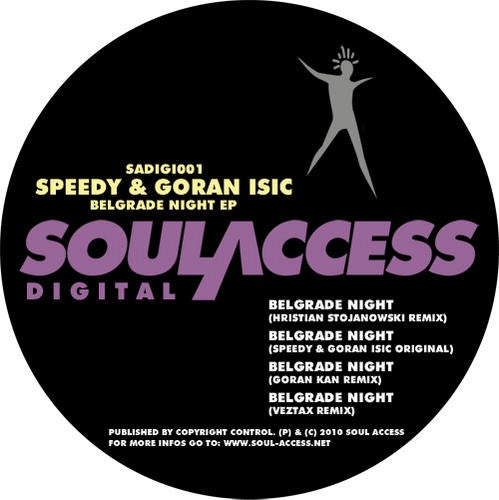 Release
Belgrade Night EP
Release Date

2010-11-02

Label

Soul Access

Catalog

SADIGI001