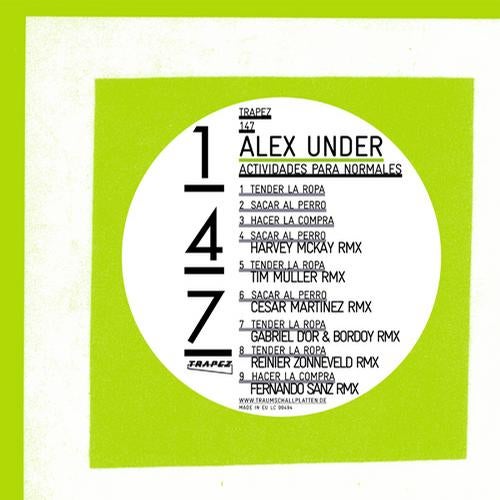 Release Date

2013-10-14

Label

Trapez

Catalog

TRAPEZ147
For those who know Trapez since a while, we dont have to emphasize what the artist Alex Under means for us. He put us into the techno circuit at a time when we were solemnly creating things out of our own experience and fantasy in our office in Cologne. We had just released three 12 by Akufen and were looking for a new challenge. With Alex Unders music especial his first 3 EPs and his album Dispositivos De Mi Granja Trapez became attractive for many DJs and producers that was in 2005 & 2006 and his name still lingers on in the minds of many young new producers. Which you can see in the list of remixes we have lined up. Alex Unders "Muscle Tracks" in 2009 was his last release on Trapez so now we think with his new tracks and a fantastic collective of artists remixing his new tracks, we have come up with something potential. No doubt all of these tracks can win a 100 meter dash!

We kick off the release with the first 3 original cuts by Alex Under. "Tender La Ropa" is a fine sequential piece of techno with a strong lead, that gets counteracted by a sound in the background that seems to holler "jack you body". The track breaks down towards the middle and draws twin sequences to join it's attacking lead. Alternating between powerful bass-heaviness and screaming synths and rattling percussion... this track has that exceptional hypnotic groove quality Alex Under is known for. Play "Tender La Ropa" and let the time space continuum become irrelevant."

Sacar Al Perro" is the funky and muscular answer to "Tender La Ropa". Alex has his "motor" running and whatever happens in the course of the track is somehow going to be fine. That is classy Alex Under stuff as we know it. The sexy groove will have us all wiggle like Zombies in the game of "On" on "Offs" and "On" and "Off"s in " Sacar Al Perro". "Pull up to the bumper baby" we say.

"Hacer La Compra" is the most classic of all three tracks... you think when you hear the beginning... but is that really true? The chords which have accompanied Robert Hood and Jeff Mills in all of their trax return here in a different context and when Alex plays his powerful walking bass and additional instruments elements, this track is converted into pure mayhem. Dont tell anyone about it they won`t believe it.

The first remixer of this release is Harvey McKay. A person who has released with us before and we consider one of the true believers of techno. Harvey has risen from Soma fame to an international following. He has remixed "Sacar Al Perro" in away that connects soulful sampling with a pounding kick drum and hence reverb aesthetic he has developed for himself.

German artist Tim Müller appears here for the first time on Trapez with his remix of "Tender La Ropa". Tim has his own system developed of reverbs and bass generation and so we can truly say his remix has the full analogue feel and progression we were expecting from him... roughness rawness, intuitive tweaking and a good deal of live feeling make this track a clubby vintage techno monster not to be missed.

Spanish artist Cesar Martinez and artsist on CMYK has come up with a phenomenal groove interpretation. His remix of "Sacar Al Perro" is so full of funky programming it shows what it means to be a master of the slick and the mad polyrhythmic beat writing. But last but not least Cesar Martinez is an angry man who wants to show the world that he can create a zoological affair out of beats! Amazing slides, glitch programming, split second breaks... acceleration in 3 second to a hundred.

Gabriel DOr & Bordoy also reside in Madrid and are already a force in Spain. They have pimped up "Tender La Ropa" into a bass heavy hi-tek piece of techno. They sure take no prisoneers!

Trapez discovery Reinier Zonneveld stays true to his analogue raw quality and has "Tender La Ropa" transfered into a mighty dark bass drum epic that will convince everyone who has "Klang der Familie" in their blood!

Fernando Sanz, from CMYK has remixed "Hacer La Compra" in a hypnotic fashion, keeping a steady motion but manipulating the synth sounds in a delicate and nice way. Slowly and step by step Fernando re-writes the track! Please listen to the end!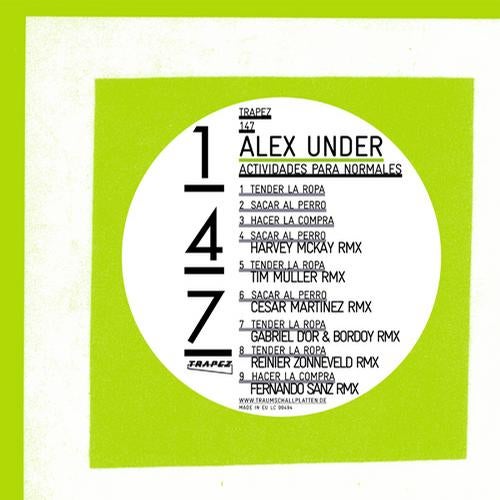 Release
Actividades Para Normales