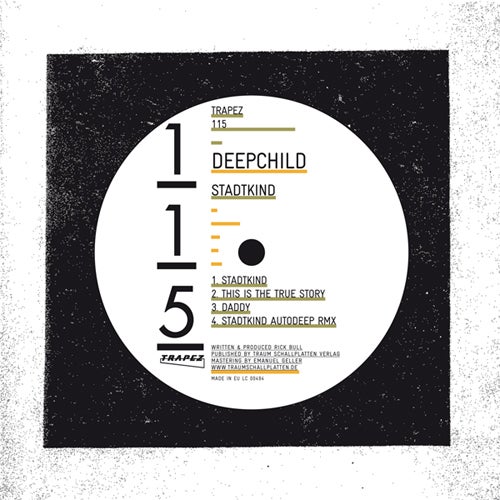 Release Date

2010-12-20

Label

Trapez

Catalog

TRAPEZ115
After good feedback from people such as Kiko, Orde Meikle (SLAM), Renato Cohen and Patrick Pulsinger for Deepchild´s stunning production, Deepchild moved from Australia to Berlin and recorded his first tracks there for Trapez. Influenced by his performance at Trapez label night at Berghain and coming to terms with all the new influences he now has 3 new tracks for Trapez.

"Stadtkind" is a soulful vocal track in a stop and go manner, it sees Deepchild aka Rick Bull singing adding elctronic sounding sequences that provide the track with the edgy character that makes Trapez tracks different.

"This Is A True Story" is a Detroit flavoured techno track, much more on the techno trip than recent tracks of his. We are not saying it is techno for the sake of it, but we would say it has the pumping character the track needs to put across the theme which unfolds in this special track.
This track has instant recognition going for it twists and turns the vocals over and over again and makes them the theme of the track.
Sometimes when they are down pitched they sound like the vocals of Jimi Hendrix sometimes more like the voice of an alien.
Deepchild definitely has this track going in the footsteps of cool mind-bending music and we assume the Berlin dance floors will thank him for that as we think it is touching base which what is crazy and warped out there.

The third track on the EP is the deep and grinding track called "Daddy". We hope that this track does not relate to the relationship to his Dad, because the psychedelic funk note it carries is more intergalactic than earthly bound. This is a hell of a funky track full of soul... sounds as if Rick is playing all of them live... it has such a amazing flow and it is so natural, it could be done on the breakfast table between frying some scrambled eggs, boiling hot coffee and french toast. This is hot shit!

The bonus remix comes by Autodeep. They have already remixed Deepchild before for Trapez once and again they did a great job. Autodeep´s remix of Stadtkind is a cool Chicago mover with naive acoustic percussion details, going really strong through it's hypnotic beat programming.